SCF Stadium TNPL 2022 Tickets Price, Salem Stadium TNPL Schedule
Salem TNPL ticket demand is very high as Salem Cricket Foundation Stadium is hosting TNPM matches this year. Salem is hosting 9 matches of TNPL 2022 in which 7 league matches. Qualifier 1 and Eliminator is also hosted here. Salem Cricket Foundation Stadium is located in Tamil Nadu state and it is a popular cricket ground of Salem. During TNPL matches and events, it is very tough to book Salem stadium tickets. It is newly built stadium and construction was started in 2015. This stadium is ready to host Tamil Nadu Premier League matches along with Tirunelveli, Dindigul and Coimbatore. It is an advance cricket ground which good drainage facility. This ground has biggest play area in Tamil Nadu. In this post, we are sharing the method to book Salem TNPL 2022 tickets along with ticket price and fixture.

As per officials, this ground will host IPL matches and Ranji matches too in future. Stadium location is in Kattuveppilaipatti village near Vazhapadi town. It is around 25 KM away from Salem main city. It is built in area of 16 acres. It was built in a cost of INR 3 crore. Current seating capacity is 5000 and during the high voltage matches it can be increased to 25000. It is popular as SCF stadium. Salem Cricket Foundation is the owner and operator of this ground. The surface of the ground is grass. Tamil Nadu and Salem Spartans TNPL team is the current tenant of this ground.
Cricket fans are searching for Salem stadium TNPL tickets. This league will start from 23 June 2022 as per TNPL 2022 schedule. 9 matches are  going to held at SCF stadium Salem. This stadium has players pavilion, press box, 5 pitches and 12 practice-turf wickets.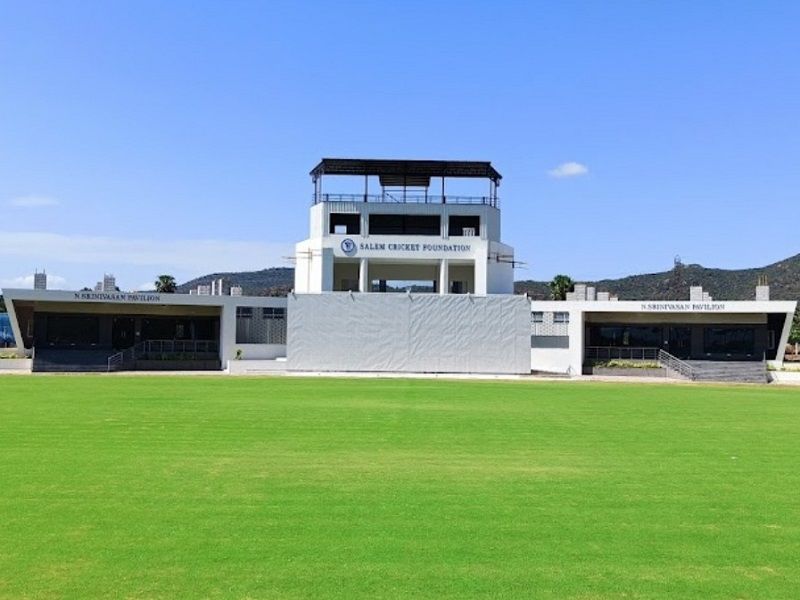 SCF Stadium TNPL 2022 Tickets

Salem TNPL 2022 tickets are available online like other stadiums hosting Tamil Nadu Premier League 2022. Insider website and App is selling TNPL 2022 tickets. Some tickets might be available through Salem stadium tickets counters too. SCF Stadium seating capacity can be increased up to 25000 if needed, therefore, it is largest cricket stadium in terms of seating for TNPL if needed. Below are the steps to book TNPL 2022 tickets Salem stadium.
Log on to official website or partner website to search for TNPL tickets online.
On next step look for SCF stadium match tickets and click on book now.
On next page, SCF stadium tickets are listed along with ticket price.
Choose seats as per requirement and budget.
On next page check all the details and complete payment through available payment modes listed on website.
Check E mail after making the payment for E tickets and further instructions.
Salem Cricket Stadium TNPL 2022 Schedule
As per the Tamil Nadu Premier League 2022, 7 league matches will be hosted at Salem stadium and 2 important matches will be played at this stadium. First match will be played on 19 July 2022 and last match will be played here on 27 July 2022.

| Fixture | Day and Date | Time |
| --- | --- | --- |
| Salem Spartans vs Chepauk Super Gillies | Tuesday, July 19, 2022 | 07:15 PM |
| iDream Tiruppur Tamizhans vs Siechem Madurai Panthers | Wednesday, July 20, 2022 | 07:15 PM |
| Salem Spartans vs Ruby Trichy Warriors | Thursday, July 21, 2022 | 07:15 PM |
| Chepauk Super Gillies vs iDream Tiruppur Tamizhans | Friday, July 22, 2022 | 07:15 PM |
| LYCA Kovai Kings vs Nellai Royal Kings | Saturday, July 23, 2022 | 07:15 PM |
| Siechem Madurai Panthers vs Ruby Trichy Warriors | Sunday, July 24, 2022 | 03:15 PM |
| Dindigul Dragons vs Salem Spartans | Sunday, July 24, 2022 | 07:15 PM |
| Eliminator | Tuesday, July 26, 2022 | 07:15 PM |
| Qualifier 1 | Wednesday, July 27, 2022 | 07:15 PM |
Salem Cricket Stadium Location Map
This stadium has floodlights, so day night matches can be hosted here easily. Always book SCF stadium tickets only from official sources only.
TNPL Hosting Stadiums