Adelaide Oval Seating Map, T20 World Cup Tickets Price, Booking and Schedule
Adelaide T20 World Cup tickets are in high demand as 2022 T20 World Cup matches are scheduled to host here. 7 matches of the 2022 World Cup will be played at Adelaide Oval stadium including the second semi-final match. All the matches are very crucial for the teams playing on this ground. It is a multi-purpose Stadium used for many sports along with cricket. Australian rules football, rugby, cycling, badminton, baseball, etc. are some of the sports played in this stadium. This stadium is very famous among cricket friends all over the world. Many Sporting events are also held here from time to time.

Adelaide Oval is an old Stadium established in 1871. The stadium seating capacity is 53500 and the field size is 167*124 meters. Cricket teams, Rugby teams, and Australian Rules Football teams are some of the main tenants of Adelaide Oval ground. It is owned by the South Australian government and operated by Adelaide Oval SMA Ltd. It is 150 plus years old cricket down and many world records made in this ground. Cathedral End and river end are the two ends of this ground. Adelaide Oval ground has seen many redevelopments and renovations in the last 150 years. Floodlights are installed on this ground so that night events can be hosted here easily.
Adelaide Oval cricket ground hosted its first international test match in 1884 between Australia and England. Australia vs West Indies one-day international match was the first ODI match on this ground in 1975. England and Australia played the first T20 International match on this ground in 2011. This ground has hosted many World Cup events in the past for multiple Sports and now in 2022, it is hosting 7 matches of cricket world cup 20-20 format. During high-demand matches or concerts it is tough to book Adelaide Oval tickets. In this article, we are sharing methods to book Adelaide oval tickets online and from the ticket office.
How to Book Adelaide Oval Tickets Online

Booking Adelaide Oval tickets is a simple task if planned in advance. Tickets for this Stadium are generally out a few weeks/month before the event. All the details regarding Adelaide Oval Stadium tickets are available on the official website. The tickets of the events are sold through the official or partner websites in online and offline mode. 2022 T20 World Cup Adelaide Oval tickets are available online through the T20 world cup official website. As per the news, offline tickets will not be available for this event. As per our guess, offline tickets for the stadium might be available if online tickets remain unsold. All the details regarding the Adelaide Oval ticket counters time and date will also be shared on the official website.
We are sharing some steps to book Adelaide Oval tickets from the official website.
Log on to the authorized website and sign in or sign up if you are not a registered user.
Find events or ticket links on the authorized website to book Adelaide Oval tickets online.
Click on the ticket link and the user will be redirected on a new page where all the events of Adelaide Oval are listed along with booking link.
Click on the sports/event as per the choice.
On the next page, all the details regarding the event along with ticket price and important information will be displayed.
Choose the number of tickets as per your wish and click on the book now button.
On the checkout page verify all the detail once again before making payment.
After payment confirmation check the registered email ID for Adelaide Oval admission tickets and entry guidelines inside the stadium.

Adelaide Oval ticket counter information is also displayed on the official website. Always follow official channels to get trusted information about the stadium. Book tickets only from authorized sources to prevent yourself from any scam.
Adelaide Oval Ticket Prices
Ticket rates of Stadium depend on many factors like the type of sport, category of the stand, view from the seat, etc. For example, cricket match ticket prices are different from rugby or Football match ticket rates. Adelaide Oval's ticket price list is displayed on the official website. Knowing ticket prices before helps in planning to book seats as per the budget. Adelaide Oval seats are categorized in multiple price ranges as per the facilities and view from the seat. Authorities always try to sell out all the tickets of the stadium for events. It is a wise decision to visit the official website to check Adelaide Oval ticket rates for every event.
Adelaide Oval T20 World Cup TimeTable
| Day and Date | Teams | Local Time |
| --- | --- | --- |
| Wednesday, November 02, 2022 | Zimbabwe vs Netherlands | 2.30 PM |
| Wednesday, November 02, 2022 | India vs Bangladesh | 6.30 PM |
| Friday, November 04, 2022 | New Zealand vs Ireland | 2.30 PM |
| Friday, November 04, 2022 | Australia vs Afghanistan | 6.30 PM |
| Sunday, November 06, 2022 | South Africa vs Netherlands | 2.30 PM |
| Sunday, November 06, 2022 | Pakistan vs Bangladesh | 6.30 PM |
| Thursday, November 10, 2022 | TBC vs TBC – 2nd Semi-Final | 6.30 PM |

As per the above timetable out of 7 matches, 6 matches are of the super 12 and 1 semi-final match will be played at Adelaide Oval. These seven matches will be played in 9 days and every match is very important for the playing teams.
Adelaide Oval Seating Map 2022
Adelaide Oval's seating capacity is 53500 and during high voltage matches, it is tough to find a seat in this stadium without a proper seating arrangement map. We are sharing multiple maps of Adelaide Oval so that visitors can find their seeds easily. these maps will also help in deciding to book the best seats for any event. This stadium is used to host many Sporting events and concerts. The seating layout can be entirely different as per the event. Below image is the Adelaide Oval seating layout map for all the events. All the stands colored in different colors depicted on the map with roll numbers and bays. The hill, entry Gates, stand names, and directions are clearly marked on the map. The general setting and the premium seating is also shown on the map for easy access.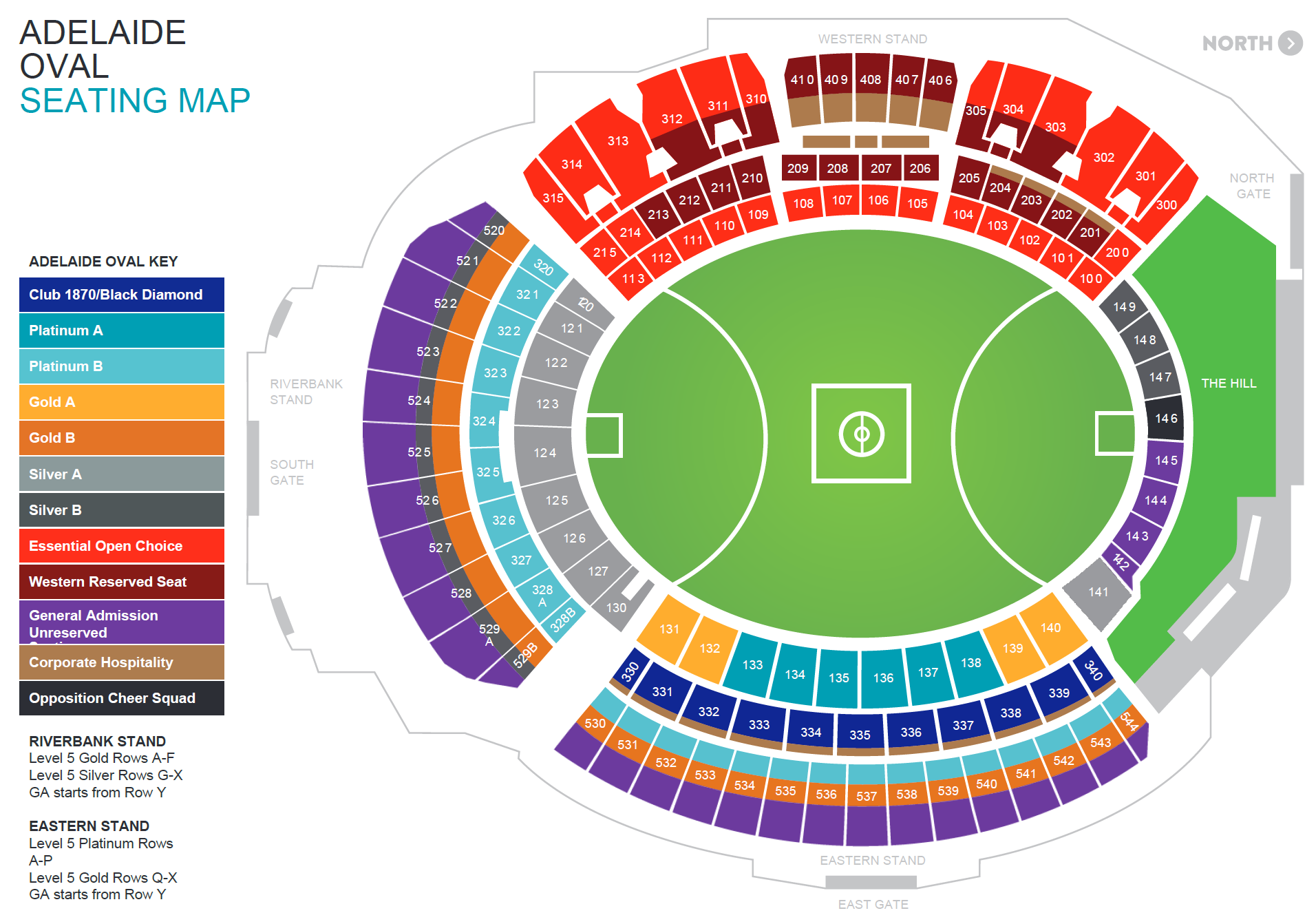 Another map of Adelaide Oval was taken from the T20 world cup official website. All the stands and rows are marked on the map along with pitch location. This map is also very useful while visiting Adelaide Oval Stadium for T20 World Cup matches. With the help of all the Adelaide Oval seating arrangement maps visitors can take an idea of their seats and all other important information.

Some parking lots are situated nearby the stadium, however, during events inside the stadium these parking spaces fill out very quickly. Visitors are advised to use public transport while attending events in Adelaide Oval stadium. Adelaide Oval stadium is well connected from all corners of the city by public transport.

The above map of Adelaide Stadium will help in planning a visit to this beautiful ground.