Rohini Adventure Island Tickets Price 2023, Timings, nearest Metro, How to Reach
Adventure Island is a amusement park located in Rohini locality of Delhi. It is one of the oldest amusement and water park of Delhi. It is situated near Japanese Park of Rohini. This park is very popular among all age group people of Delhi and kids like this place very much. This is one of the best place and it can be visited any time of the year. Due to Covid pandemic, this place was closed and reopen for several times during the tenure. Now cases are declining, this place is ready to serve their guests. Delhi NCR has plenty of amusement and water park, however, Delhi has very few parks of this kind.

Adventure Island amusement park is spread over an area of 62 acres. Metro walk mall and Adventure island are connected with each other. 250000 sq. meter are is specially dedicate to this amusement cum water park. It is well connected with all parts of the city by road and metro. During weekends and holidays, heavy rush can be seen here. This place is perfect to spend entire day with family and kids. Adventure Island offers plenty of rides, food options, water park, etc.  Visitors can enter the Adventure island by crossing the bridge made over the artificial lake where boating facility is available. Airplane converted restaurant is also  situated near the entry of the Adventure island where visitors can enjoy lunch, brunch or dinner inside or on the wings of the aircraft.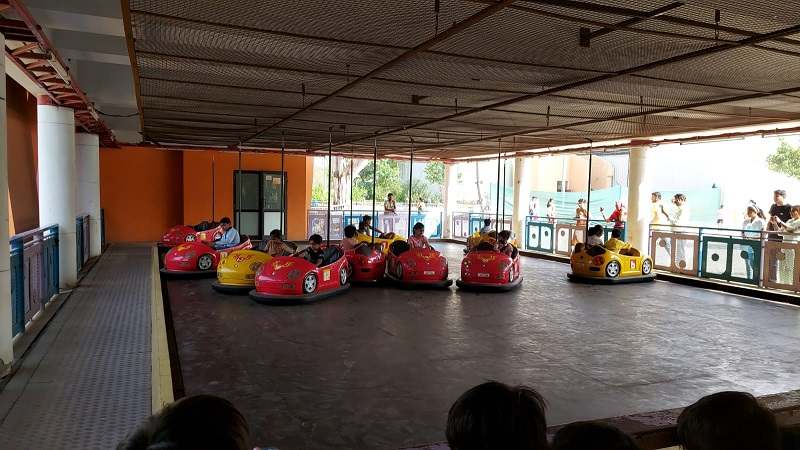 Adventure Island Tickets Price 2023

This amusement park has 23 rides and some of the rides are very thrilling and unique. At the time of writing this post, Adventure island ticket price 2023 is 500 for adults, kids, and for senior citizens on Weekdays. The weekend ticket price is 600 for all. Children above 3 feet of height need to purchase tickets of 500 on weekdays and 600 on weekends and children below three feet are entitled to free entry.
| Ticket Type | Entry Fee 2023 (Weekdays) | Weekends |
| --- | --- | --- |
| Adults | 500 | 600 |
| Child Above 3 feet height | 500 | 600 |
| Senior Citizens above 60 | 500 | 600 |
| Child below 3 feet in height | Free | Free |
Adventure Island entry fee can be changed as it is decided by officials of the park. Multiple offers and discounts are running by the park from time to time which are available on the official website and partner websites. During offer periods, visitors can save a decent amount on entry tickets and dining. Multiple events and concerts are also hosted here from time to time. Entry prices for events can be added along with the admission fee of Adventure island.
Adventure Island Timings

Adventure Island opening time is 11 AM and Adventure Island's closing time is 7 PM normally. During events, long weekends, holidays, and weather conditions, the timings of the Adventure Island can be changed. At the time of writing Adventure Island hours are from 11 AM to 7 PM.
| Day | Adventure Island Timings |
| --- | --- |
| Monday | 11 AM – 7 PM |
| Tuesday | 11 AM – 7 PM |
| Wednesday | 11 AM – 7 PM |
| Thursday | 11 AM – 7 PM |
| Friday | 11 AM – 7 PM |
| Saturday | 11 AM – 7 PM |
| Sunday | 11 AM – 7 PM |
Adventure Island Rides and Attractions
23 Adventurous rides are situated inside the park which are very thrilling. Most of the rides are always open and some rides can be out of the order for routine maintenance. Officials always try to prioritize guest safeties, therefore, some of the rides can be out of order can be out of service during the visit. Some of the popular rides at Adventure island are:
Cyclone
Bush Buggies
Wild Wheels
Kids Bumper Car
Wave Roker
Tinny TV Train
Climbing Wall
Bunjee Jumping
Air Pogo
Sky Riders
Splash Dunk
Cliff Hunger
Jolter
Fire Brigade
Splash Down
Some of the rides are specified for adults and some are specially designed for kids. Every ride has a height bar so that people of that height or bigger than the bar are allowed for the ride.
Below are the water rides in Adventure Island
H2O
Swan Boat
SHA LA LA
Aqua Bump
Amazon mist forest
Splash Pool
Some of the water rides are not included in the general entry fee. For a few rides, guests need to pay additional charges for the ride. Costume charges are additional and need to pay 200 for the pair. 100 Rs are for top wear and 100 for bottom wear.
Paid Attraction at Adventure Island
Some of the attractions are available inside the amusement park which are charged separately and they are not included in the entry fee.
Swan Boat
Aqua Bump
Click Art Museum
Carousal
Adventure Island Boating Charges and Timings

An artificial lake is also built at the entry gate of Adventure Island. It is located inside metro walk mall and outside of Adventure island. Therefore, no need to purchase an adventure island ticket for boating. Paddle boating charges are 100 Rs per person and visitors of 4 feet and above are allowed in the boar. The boating duration is 10 minutes and boating timings are from 12 PM to 8 PM every day.
How to Reach Adventure Island
Adventure Island is located in Rohini near the Rithala Metro Station of the Red line. It is well connected with all the localities of Delhi – NCR. Visitors can reach here via different modes of transportation and we are sharing all the modes of transport below:
Adventure Island by Metro: Reaching here via Delhi Metro is the best and most convenient method. It is located very near to the Rithala metro station of the Red line. It is the last station of the Delhi Metro red line. It is under 1 KM from Adventure island. Distance from the Metro station to the amusement park can be covered on foot or hire a battery rickshaw in 10 Rs.
Adventure Island by Bus/Cab: Several buses are also plying on this route and they can be used to reach Adventure Island. The route of the bus depends on the location of the visitor. Taxis and Auto Rickshaws are other modes of transportation.
Adventure Island by Car/Bike: Adventure Island has huge parking and thousands of bikes and cars can be accommodated here very easily. It is the best and most comfortable option to reach Adventure Island.
Facilities at Adventure Island
Adventure Island has all the amenities which are required for the comfort of its visitors. Clean washrooms and drinking water are available throughout the park. Various big and small food joints are situated inside the park. Charges are reasonable. Pind Balluchi, Burger King, etc. are some of the branded restaurants inside the park. Ice cream hawkers are also available at multiple locations. Lockers and changing rooms are available for water rides.
The parking charge for four-wheelers is 50 Rs and two-wheelers charges are 30 Rs.

During weekends, there is a heavy rush seen and long queues for popular rides. It is advisable to visit this place on weekdays if you want to enjoy all rides in a day. Young kids will surely enjoy this park and Japanese park is also located very near Adventure Island.