Keoladeo Ghana National Park Bharatpur
The Bharatpur bird sanctuary is the previous name of Keoladeo Ghana National Park of Bharatpur. It is one of the most popular and visited bird park of India and it is mostly visited by the tourist in Delhi. This wetland is a UNESCO World Heritage Site and it is spread in an area of around 7100 acres. In this post I am not going to share the history of the park. I will share only timings, entry fee, best time to visit along with the options to reach here from Delhi and other parts of the country. It will help the bird lovers to plan their Keoladeo National Park Bharatpur trip easily.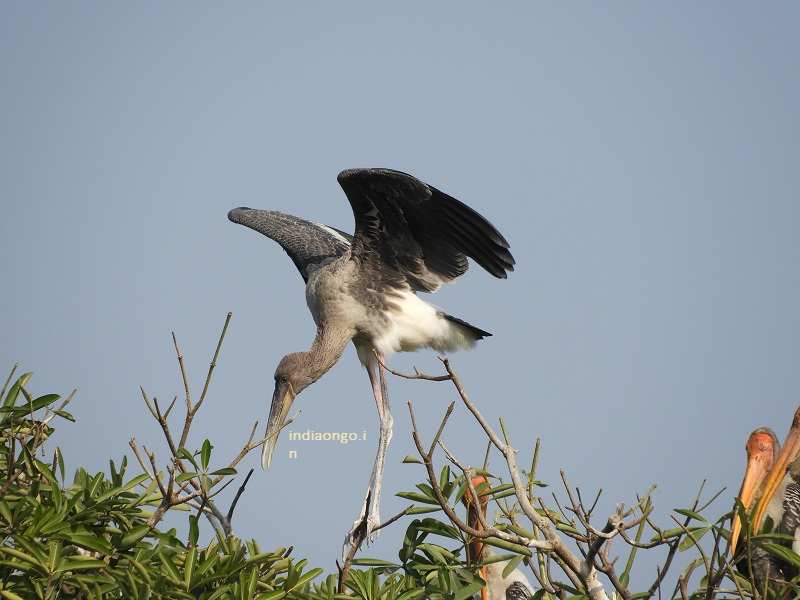 Keoladeo National Park Timings
Opening time for the bird sanctuary is 6 AM and it closes at 6 in the evening. It opens throughout the year and timings are depends on sunrise and sunset as per the summer and winter. Best time to visit this UNESCO heritage park is August to March. August to November month is good for Indian birds and December to March month is suitable to watch migratory birds. Full day is required to visit the whole park. The sanctuary can be visited in lesser time if you have less interest in bird watching.
Bharatpur Bird Sanctuary Entry Fee
National park entry fees are divided into multiple denominations. The adult entry fee is 75 Rs and children above 5 years of age need to pay 20 Rs. Indian students can get discounted tickets in just 20 rows by showing their ID card. Entry ticket price for foreigners are 500 Rs. Ticket sale closed 1.5 hours before sunset.
Keoladeo National Park Other Charges
As you are aware that entry charges are compulsory in the Keoladeo Ghana national park. Apart from the normal entry charges, visitors can avail many other facilities at the park to make their travel more exciting and less tiring. Park is spread in a very large area and it is very tiring to cover the entire park on foot. As the car is not allowed inside the park, visitors can opt for cycle rickshaw, they can accommodate two people and rickshaw pullers are very knowledgeable about the park. They are rickshaw pullers cum guide. Charges of these rickshaws are 150 Rs per hour. Similarly tonga can also be hired for inside visit, charges are Rs 300 per hour and they can accommodate 4 to 6 people.
Guide charges are 250 per hour for the group of 5 people and 400 for the group of 5+ members. Boating is also allowed in the park and boating charges are 75 per person for 1 hour. 4 seater boat can be hired in 300 and 8 seater boat charges are 600. Electra van are also available and charges are 300 per hour. Digital camera and video camera are also allowed inside after paying some charges. Detailed price list is below and it is subject to change as per the sanctuary officials.
| Particulars | Details |
| --- | --- |
| Entry Fee | |
| Indians | 75 Rs |
| Students | 20 Rs |
| Non Indian Citizen | 500 Rs |
| Guide Charges for Group under 5 Members | 250 Rs |
| Guide Charges for Group more than 5 Members | 400 Rs |
| Rickshaw | 150 per hour |
| Tonga | 400 per hour |
| Boating | 75 per person / hour |
| 4 seater | 300 per hour |
| 8 seater | 600 per hour |
| Electra Van | 300 per hour |
| Video Camera Charges | |
| Handy Cam for Indian | 600 |
| Handy Cam for Foreigners | 900 |
| Video Camera Professional Indian | 9000 |
| Video Camera Professional Foreigner | 13500 |
| Movie Camera Feature Film Indian | 60000 |
| Movie Camera Feature Film Foreigner | 90000 |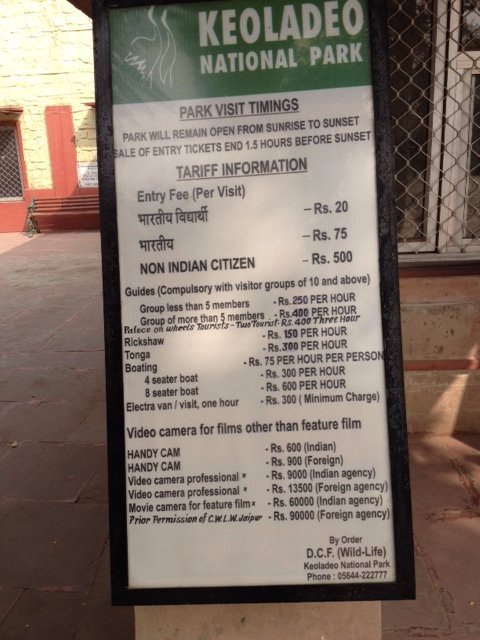 How to Reach Bharatpur National Park
Bharatpur is a small city of Rajasthan state. Park is just 5 KM away from the railway junction. Bharatpur is well connected from all the parts of India via road and rail mode. Agra is the nearest airport to the Bharatpur, however, it has very less flights. Indira Gandhi International airport of Delhi is the nearest airport, which has domestic and international flights from all parts of the world. Many residents of Delhi visits this sanctuary and Reaching Bharatpur from Delhi are simple via rail and road.




Multiple trains are running from Delhi to Bharatpur round the clock. Delhi Bharatpur train distance is around 170 KM and it is covered in under 3 hours from most of the trains. Rajasthan State Road Transport Corporation ordinary buses are also running on this route and buses take around 5 to 6 hours covering the distance of 200 KM. If you have car, then visiting here via private vehicles would be a great idea and it will save lots of time in traveling and same day journey is possible with private vehicles.
Visiting Bharatpur national  park is a very good and unique experience at peak season when birds gathers here from across the globe. Hiring a rickshaw is a good option and it is better than hiring a cab. Rickshaw pullers serve the purpose of guide and they are very knowledgeable. They knows the point where visitors can watch the birds. Also spare some time for Python point inside the Bharatpur sanctuary.