10 Experiences in Asia That Your Kids Will Love
Asia is a vast and diverse continent with a rich tapestry of cultures, landscapes, and experiences waiting to be explored. For families traveling with children, Asia offers an array of exciting and educational adventures that will leave a lasting impression on young minds. From vibrant cities to serene natural wonders, Asia has something to captivate children of all ages. In this article, we'll dive into 10 unforgettable experiences in Asia that your kids will absolutely love.
Singapore Cable Car: Soaring above Sentosa Island
One of the most exhilarating family experiences in Asia can be found high above the vibrant city of Singapore. The Singapore Cable Car offers a bird's-eye view of the stunning Sentosa Island, known for its world-class resorts and attractions. With your Singapore Cable Car ticket in hand, you and your children can ascend in the cable car, taking you to breathtaking vistas of the lush rainforests, pristine beaches, and the iconic Merlion statue. This isn't just a ride; it's a journey that introduces your kids to the beauty of nature and the thrill of heights.
The Dubai Balloon At Atlantis: A Sky-High Adventure in Dubai
The Dubai Balloon at Atlantis offers an unparalleled aerial adventure over the iconic Palm Jumeirah in Dubai. Tethered to the ground, this breathtaking hot air balloon provides an extraordinary vantage point, allowing you to marvel at the city's architectural wonders and the stunning Arabian Gulf. The experience offers an incredible perspective of Dubai's architectural wonders, and kids will be awestruck by the sheer scale and beauty of the city from above. It's a unique and unforgettable way to explore Dubai with your little ones.
Universal Studios Singapore: A World of Fantasy and Adventure
For a dose of magic and excitement, head to Universal Studios Singapore. Located on Sentosa Island, this world-class theme park features a wide range of attractions inspired by blockbuster movies. From thrilling rides like the Battlestar Galactica roller coasters to the whimsical wonderland of Sesame Street, there's something here for every age group. Your kids will be enchanted by meeting their favorite movie characters and experiencing the magic of cinema come to life.
Tokyo Disneyland and DisneySea: Where Dreams Come True
Another iconic theme park destination in Asia is Tokyo Disneyland and DisneySea. These two enchanting parks offer a world of imagination, where your kids can meet beloved Disney characters, enjoy thrilling rides, and witness dazzling parades and shows. Disney magic knows no bounds, and the joy on your kids' faces as they interact with Mickey Mouse and explore these enchanted lands is simply priceless.
Bali Safari and Marine Park: A Wildlife Adventure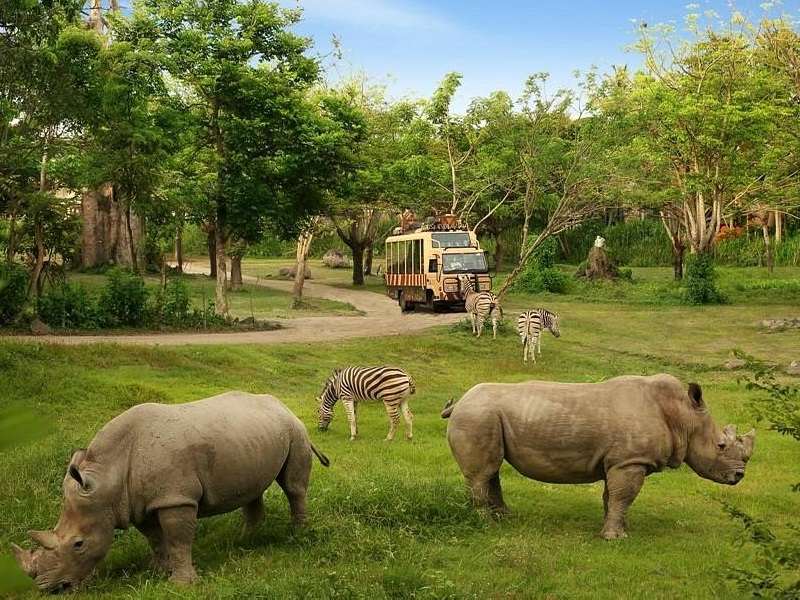 Bali is not just about stunning beaches and vibrant culture; it's also home to the Bali Safari and Marine Park. This attraction provides a unique opportunity for your kids to get up close and personal with a variety of exotic animals from around the world. From safari tram rides through animal habitats to animal encounters and educational programs, this park offers a thrilling and educational experience for young explorers.
Legoland Malaysia: Building Memories Brick by Brick
Located just a short drive from Singapore, Legoland Malaysia is a paradise for Lego enthusiasts of all ages. The park features various themed areas, including Miniland, where iconic Asian landmarks are recreated in Lego form. There are also exciting rides, interactive attractions, and even a water park for a refreshing splash of fun. It's a place where creativity knows no bounds, and kids can let their imaginations run wild.
Chiang Mai Zoo: A Day with Pandas and More
If your kids have a fascination with animals, a visit to Chiang Mai Zoo in Thailand is a must. This sprawling zoo is home to a diverse range of animals, including the adorable giant pandas. Witnessing these gentle giants up close is a rare and unforgettable experience. The zoo also offers a monorail ride that takes you through various animal enclosures, making it easy for kids to observe and learn about wildlife from around the world.
Seoul Children's Grand Park: Outdoor Fun in South Korea
Seoul Children's Grand Park is a fantastic destination for families visiting South Korea's capital city. This vast park offers a variety of attractions, including a zoo, botanical garden, amusement rides, and a beautiful lake. It's a perfect place for picnics, leisurely walks, and letting your kids burn off energy in a safe and picturesque environment. Don't miss the colorful flower festivals held here in spring and summer.
KidZania Bangkok: Where Kids Rule the World
KidZania Bangkok is a unique edutainment center that allows children to experience different careers in a fun and immersive way. Kids can role-play as doctors, firefighters, chefs, and more in a realistic, child-sized city. It's a fantastic opportunity for them to learn about various professions while having a blast. The hands-on activities and interactive exhibits make learning fun and engaging.
Ocean Park Hong Kong: Thrills and Marine Life
Ocean Park Hong Kong combines thrilling rides with marine life encounters. Your kids can enjoy exhilarating roller coasters and rides, as well as watch mesmerizing marine animal shows and visit animal exhibits. One highlight is the Grand Aquarium, where a massive viewing tank showcases a stunning variety of marine creatures, including graceful rays and mesmerizing jellyfish.