India vs South Africa Trivandrum T20 Tickets, Greenfield Stadium Ticket Price List 2022
India vs South Africa T20 Trivandrum tickets are in high demand after the announcement of the South Africa tour of India 2022. Tickets for the 1st T20 scheduled at Kerala Greenfield stadium are still available and it is the best chance to book Greenfield stadium tickets. Online tickets of higher denominations are still available at the time of updating this post. It is the best chance to book last-minute tickets for today's match. South Africa has arrived in India and is ready to play the 1st T20 match of 3 match T20 series at Greenfield International Stadium in Thiruvananthapuram. After the announcement, cricket fans are looking for the Thiruvananthapuram stadium tickets. Trivandrum International Cricket stadium is a cricket stadium located in Trivandrum, Kerala. It is also known as Greenfield International Stadium or Greenfield Cricket Stadium, Trivandrum. Stadium is built over the land of University of Kerala. This stadium is a part of the sports hub, spread over a large area of 37 acres. The stadium is constructed by spending a whopping amount of 240 crore rupees, and has all the facilities of an international cricket stadium. It was established in January 2015, and its construction went on for 3 years (2012-2015).


It has a seating capacity of 50000, not many stadiums can accommodate such a high number of spectators. The sports hub has many other stadiums as well including a swimming pool, Football stadium, etc. The stadium is operated by Kariavattom Sports Facilities Limited. Its tenants are the University of Kerala, India national football team Kerala Evergreen FC and the Government of Kerala, Indian Cricket Team. This Cricket stadium was selected for India vs New Zealand T20 match. Date of the India Vs New Zealand Greenfield Cricket stadium match was 07 November 2017.
India vs South Africa Thiruvananthapuram Greenfield Stadium Tickets
Thiruvananthapuram's newly built stadium is ready to host another match of the South Africa tour of India. This stadium is selected for India vs South Africa T20. 1st T20 of the India vs SA will be played here on 28 September 2022 and Greenfield stadium tickets are required to watch this match live in the stadium. This will be the fourth match at this stadium and Kerala people must be excited about this upcoming match. The South African cricket team is known for their batting and bowling. With the help of their efforts, they can turn any match in their favor. The crowd is excited about this match and ticket sales for India SA T20 will start on 19th September 2022.

To book India vs South Africa T20 28 September 2022 tickets, visitors need to log on to the authorized tickets booking site and select tickets from the sports category. Trivandrum green field stadium ticket booking is very simple and most of the tickets are sold online. The last match which was held here in 2019 and tickets were sold online. As per previous trends, India vs SA Greenfield stadium tickets is also expected to be sold online a few weeks before the match. Few tickets of Ind vs SA match are expected to be sold through Trivandrum stadium ticket counters. Authorized authorities announce Greenfield stadium ticket rates and we have updated the Greenfield stadium ticket price list.
As per the official website, India vs South Africa 28 September 2022 Thiruvananthapuram ticket price starts from 1500 Rs. Entry tickets are available in multiple price ranges.

Greenfield Cricket Stadium Upcoming Match Schedule
Greenfield International Cricket Stadium Ticket Booking Procedure
Trivandrum stadium ticket booking was started in online mode through insider website. Tickets rates for Greenfield stadium match tickets price are also announced.  Trivandrum stadium ODI tickets price starts from 1500 Rs and is available in multiple categories. Corporate box tickets are also available.
India vs South Africa Trivandrum stadium ticket booking is available online. In most cases, cricket match tickets for international matches are made available a few weeks before the start of the match. We are expecting that offline tickets will be booked by the ticket counter at the stadium venue. Trivandrum stadium online tickets are available via insider website and mobile app. This website is authorized to sell tickets in India. India vs South Africa T20 match ticket booking already starts on 19 September 2022 at 7.30 PM via the insider website and app.

Cricket match online ticket booking procedure is rather simple. Visit the website selling ticket, select the desired match. The cricket stadium seating layout will be opened, select the desired seat and proceed. At the end, online payment is needed, can be done using internet banking, Credit card or debit card. Once the ticket is booked, online ticket or E-ticket is sent to the mail Id of the user. This ticket should be exchanged for a physical ticket or entry pass, at the box office or ticket counter (depending on the website process). At the box office, show the card used at the time of online payment. India Vs South Africa T20 match ticket booking will be done the same way. Greenfield stadium ticket price will be made available during ticket booking. The ticket cost will be shared here, once it is made available to us.
Trivandrum Greenfield Stadium Seating Map and Tickets Price
India vs South Africa 28 September T20 ticket price start from 1500 INR and ticket are available in multiple price ranges. As per the booking website, the most expensive ticket rate is 6000. Tickets are divided into multiple categories as per the stands.
| Stand Type | Ticket Prices |
| --- | --- |
| Terrace A | 1500 |
| Terrace B | 1500 |
| Terrace C | 1500 |
| Terrace D | 1500 |
| Terrace F | 1500 |
| Terrace G | 1500 |
| Pavilion A | 2750 |
| Pavilion B | 2750 |
| Pavilion F | 2750 |
| Pavilion G | 2750 |
| Pavilion H | 2750 |
| Pavilion J | 2750 |
| Pavilion E KCA Grand Stand | 6000 |

The Thiruvananthapuram cricket stadium map as per the seating layout is shared below. All the price range with the stand type map is clearly depicted on the map.
All types of seats, corporate boxes, stands, tiers, and pavilions along with pitch and directions are depicted on the map. The below rates are not applicable for the upcoming match on 28 September 2022. Entry gates, stands, pavilions, corporate boxes, ramps, etc are clearly depicted on the map. Pitch location, players' dressing room, stairs, etc. are also shown on the map.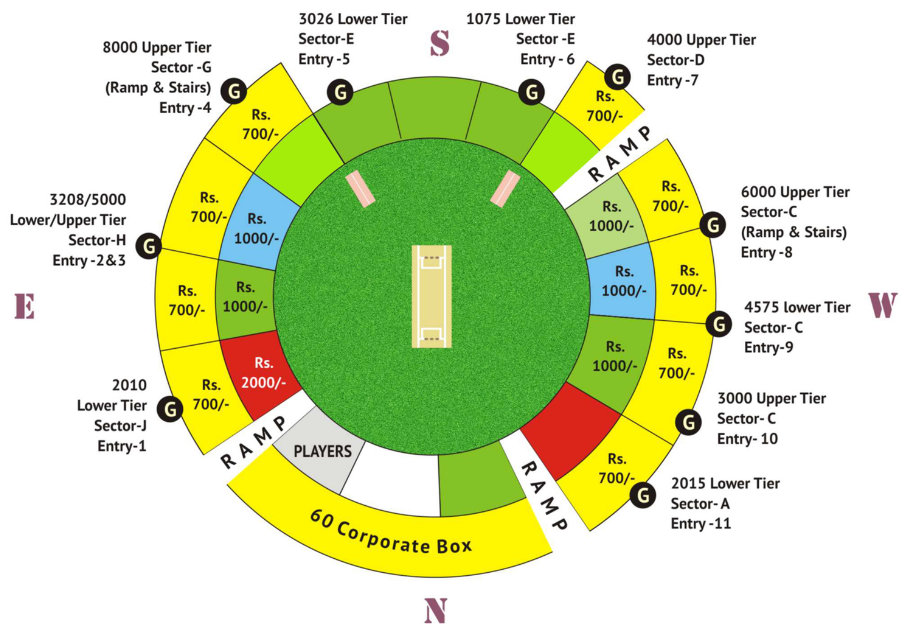 Trivandrum Greenfield Stadium Map and How to Reach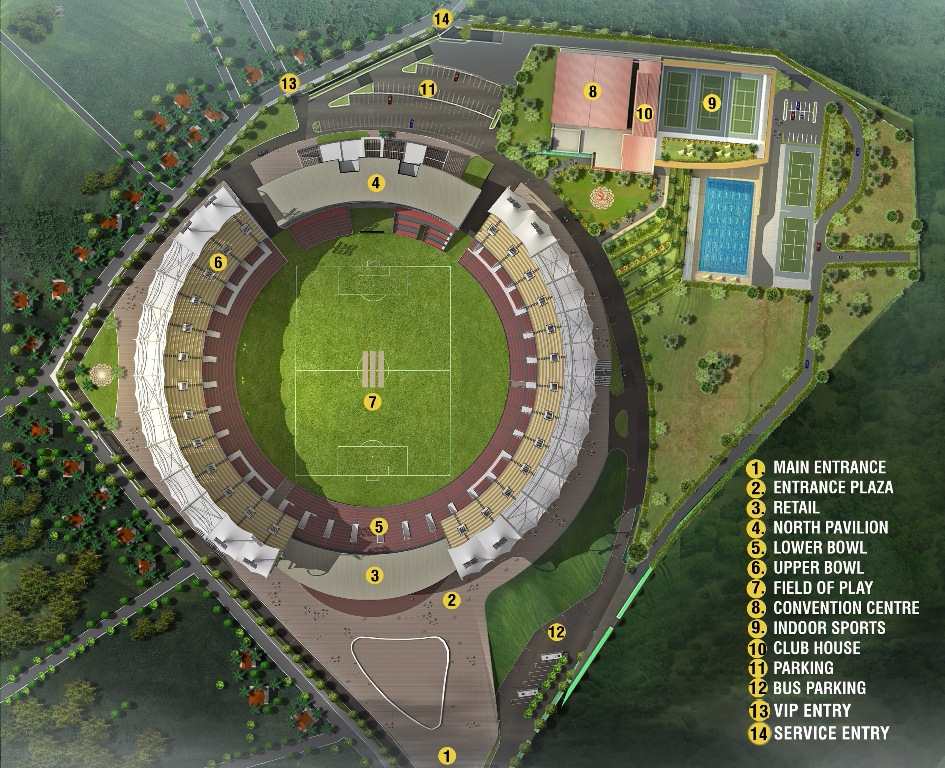 The stadium is located at a distance of 16 Km from Thiruvananthapuram Central railway station. The drive will take half an hour, with little traffic on the way. Trivandrum International Airport is 13 Km away from Trivandrum Greenfield Stadium, 25-30 minutes ride is needed to reach by road. This stadium is not much far away from railway station or airport, making it easily accessible. Greenfield stadium Parking is shown on the map. The main entrance and entrance plaza is shown by number 1 and 2. Clubhouse, Bus parking, VIP entry and service entry are also provided within the stadium campus.
Trivandrum Cricket Stadium General Guidelines and Amenities
Greenfield Stadium of Trivandrum is the only cricket stadium in Kerala, which is currently listed to host international matches. Stadium is newly built, hence it has been built with all modern facilities. Stadium seating arrangement is spacious and its capacity is more than 50000. To house so many visitors, it has ample amount of drinking water outlets, washrooms. The sports hub has Food-courts, VIP seating and Parking as well. It has VIP seating capacity of 4000, and parking is big enough to accommodate many cars at once. Corporate box is situated in the East stand North pavilion and their count is 31. For the specially-abled visitors, seating arrangement for 500 is available. Facilities for cricket players, media houses and broadcast is also present here.

There are few rules, followed by the stadium authorities and visitors. During international match days, some items are not allowed entry inside the stadiums in India. The list of restricted items includes throwable items such as coins, water bottles, pen drives, power bank, data cable, video camera, earphones, binoculars, eatables and drinkables. However some items are allowed entry, such as baby food and baby items. Frisking is done at the entry gate of stadium, by security officials. If any restricted item is found, they might deposit it and chances of getting it back is very less.




If someone is planning to watch an international match between India and South Africa, better reach there a few minutes before. It is always good to avoid last-minute rush and early birds are lucky to get a good parking spot. Overall Greenfield stadium reviews are good but many people have not visited there, as it is yet to host an international match of India vs South Africa, after the match, we will get a better knowledge of these facilities and how the stadium authorities manage it.