P V Sindhu Wins Silver Medal – Creates History
P V Sindhu of India created history by winning silver medal in Rio Olympics 2016. She played exceptionally well against her opponent, Carolina Marin of Spain in Women's singles badminton final. Carolina Marin wins Gold medal in her first ever appearance in Olympics. PV Sindhu lost by 21-19, 12-21 and 15-21 in Badminton final match for Gold Medal. India won two medals in Olympics till now (first medal was won by Sakshi Malik).
In third and final set she was trailing by 11-10 till break time, she lost the set by 21-15.
She lost the second set by 21-12 after a tough fight with Carolina Marin.
She won first set after trailing by 11-5 at break time and later that she made a great comeback and won the first with 21-19.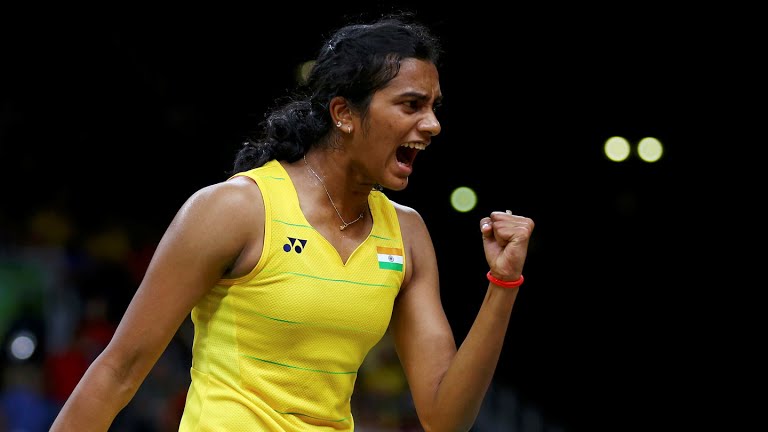 Yesterday she has beaten Japan's Nozomi Okuhara (world no. 5) in straight sets (21-19, 21-10) in Women's singles badminton semifinal. She became the first Indian women to reach in Olympics badminton final. Prior to that, she defeated world no. 2 in straight sets. She bought a huge smile on 1.3 billion Indian faces by achieving something no one could ever achieve.
It is historic won for Pusarla Venkata Sindhu who came from Telangana, India. Sindhu created history by becoming the first ever Indian badminton player to win medal at the World Championships on 10 August 2013. Indian government awarded her with the Padma Shri for great contribution in the sports. Padam Shri is the fourth highest civilian award of India. She is being coached by Dronacharya awardee Pullela Gopichand, He is the former badminton player represented India in the sports.