Kalinga Stadium Hockey World Cup Tickets Price 2023
Kalinga Stadium Hockey World cup 2023 tickets are in high demand as FIH Hockey World Cup is being hosted in India. The matches of the World Cup are scheduled to host at 2 stadiums in Odisha. Bhubaneswar Kalinga stadium is hosting most of the matches of the FIH Hockey World Cup 2023. it is a multipurpose sports stadium used to host different types of sports events. In 2022, Kalinga stadium hosted FIFA under 17 women's World Cup and now sports fans are looking for Kalinga Stadium tickets online and from Kalinga Stadium ticket counters. In this article, we are sharing the methods to book Kalinga Stadium Hockey World Cup tickets from Stadium ticket counters and online from official website.

The foundation stone of this multi-purpose International Stadium was laid in 1978 and it was built in the same here it was opened to the general public in 1978. The former Chief Minister of Odisha laid the foundation stone of Kalinga stadium. This stadium is located in Bhubaneswar which is the state capital of Odisha state of India. swimming, field Hockey, football, athletics, tennis, table tennis, basketball, volleyball, etc can be played here. Kalinga Stadium's seating capacity is 15,000 and Kalinga hockey stadium seating capacity is 16000.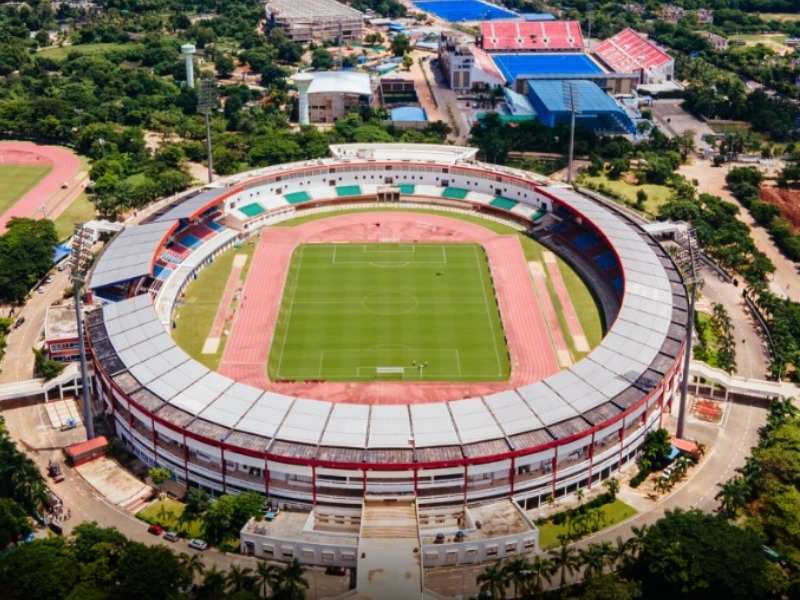 In the past, this Stadium has hosted FIFA under 17 women's World Cup and many international events successfully. Kalinga Stadium was chosen to host the 2020 FIFA under 17 World Cup matches, however, due to covid-19 this world cup was postponed. Now, this stadium is ready to host Hockey World Cup matches.
Kalinga Stadium Tickets
Kalinga Stadium tickets are generally available in two modes offline and online. the mode of the tickets depends on the type of event. Offline tickets are generally sold through the Kalinga Stadium ticket counters. Online tickets are also available for entry inside Kalinga stadium in most cases. For Hockey World Cup 2023 physical tickets are available through Kalinga Stadium ticket counters.
Kalinga Stadium Online Tickets for Hockey World Cup

The availability of online tickets for Kalinga stadium depends on the event type. FIH 2023 Hockey World Cup tickets are available for Kalinga Stadium through the insider website/App. Visitors interested in watching Live matches of Hockey can book Kalinga Stadium tickets by visiting the official ticket booking website. I am sharing all the steps to book Kalinga Stadium Hockey tickets online.
Log on to the official ticket booking website and look for Kalinga stadium tickets.
All the tickets to Kalinga Stadium are listed on the website along with the full schedule.
Click on the match of your choice and all the details along with the available seats and ticket prices will be displayed on the next page.
Choose the number of seats from the website and click on the book now button.
On the checkout page check all the details and amount before making the payment.
Complete the payment in digital mode and tickets will be delivered to the registered address if ticket delivery is available.
If ticket delivery is not a believer e-tickets will be delivered to the registered email address.
Always book Kalinga Stadium online tickets from official sources to save yourself from any online scam.
Kalinga Stadium Ticket Booking Counters
Box Office Location to collect the tickets – Reserve Police Line Ground, Opp to Gate No 8
Bhubaneswar Outlet List
Outlet 1: B21
Address: Shop No 7, Shubham Market, Ram Mandir, Square, Infront Of Axis Bank Bhubaneswar
Outlet 2: B21
Address: 691, Opposite Bhawanimall Exitgate, Saheed Nagar, Bhubaneswar
Outlet 3: Sister Mobile-1
Address: Plot-88/7, Bapujinagar, Bhubaneswar
Outlet 4: sister Mobile-2
Address: Plot-699, Saheed Nagar, Bhubaneswar
Outlet 5: Ss Frozen-1
A/54, Saheed Nagar, Bhubaneswar,
Outlet 6: Ss Frozen-2
Jagamara, Khandagiri, Bhubaneswar,
Outlet 7: Ss Frozen-3 ( Patia )
Nandankanan Road, Opp. Koel Campus, Bhubaneswar
Outlet 8: Utkal Kanika Galleria Mall,
Address: Kalpana Square, Gautam Nagar St, Opp. Bmc, Bjb Nagar, Bhubaneswar
Outlet 9: Ss The Mart Shopping Mall Bhuvneshwar
Outlet 10: Sports Lawan, Near Kalinga Stadium Bhuvneshwar
Kalinga Stadium Tickets Prices 2023
In India, hockey is a popular game and before booking match tickets people look for ticket prices so that they can book tickets as per their budget. Kalinga stadium Hockey World Cup 2023 tickets price start from 100 rupees. In online mode, tickets are available in many denominations depending on seat type, stand, teams, etc.
Kalinga Stadium Ticket Prices
100 INR
200 INR
400 INR
500 INR
Kalinga Stadium Map
Kalinga stadium's seating capacity is 15,000 and during High Voltage events, it is tough to locate seats without the Kalinga Stadium seating chart. We are sharing the Kalinga Stadium seating arrangement map so that spectators can easily locate their seats.
The above seating layout map is all the important details of Kalinga Stadium Bhubaneswar which comes crucial while visiting the stadium. Neary roads, entry gates, and exit gates for all the stands are clearly depicted on the map.  East, east, north, and south stand is also shared on the Kalinga Stadium seating map. Above map can be useful during the visit to the stadium or booking Kalinga Stadium tickets.
Kalinga Stadium Location Map