Prem Mandir Vrindavan, Mathura
Prem Mandir is a Hindu temple located in holy city Vrindavan, Mathura. Prem Temple is owned and maintained by Jagadguru Kripalu Parishat. Kripalu Maharaj is the creator of this temple. The temple is situated in the Shyama Shyam Dham complex along with 100% free charitable hospital of Jagadguru Kripalu Parishat. It is a new built and most beautiful temple in Brij area. The temple is devoted to Radha Krishna and Sita Ram. This temple is the prime attraction of the nearby region. It is built on 54 acres of area.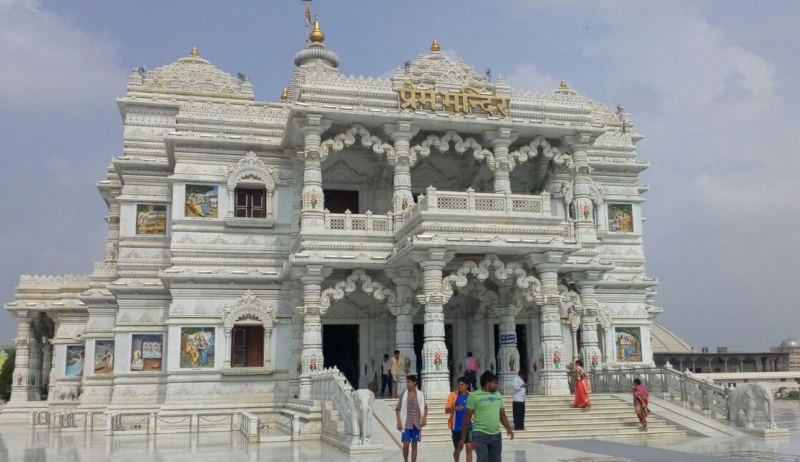 The foundation stone of Prem Mandir was laid on 14 January 2001 by Kripalu Maharaj. Thousand of devotees were the witness of this moment. Construction of the temple took more than 11 years. Inauguration ceremony of the temple runs for three days from 15 February to 17 February 2012. The Temple was open to public on 17 February 2012 (Friday). A amount of 150 crore was spent on the construction of this beautiful temple.
A Satsang hall is under construction in the complex, the Satsang hall would accommodate 25000 devotees at a time. The pillar less and dome shaped hall is being constructed in 73000 square feet area. Italian marble is used in the construction of the temple. The dimensions of the main temple are 125 feet high, 190 feet long and 128 feet wide.
Prem Mandir Vrindavan Timings
Prem Mandir opening time is 5.30 AM and closing time is 8.30 PM. Various aarti are performed inside the temple as per below time table. Large number of devotees gather in the temple at the time of Aarti. There is no entry fee to enter inside the temple and entry is completely free to everyone. At least two hours are required to cover the entire temple.
Prem Mandir Vrindavan Mathura Aarti Time Table
| Prem Mandir Information | Morning Time Table |
| --- | --- |
| Aarti and Parikrama | 5.30 |
| Bhog and Door Close | 6.30 |
| Darshan and Aarti | 8.30 |
| Bhog | 11.30 |
| Shayan Aarti and Door Close | 12.00 |
| | Evening Time Table |
| Aarti and Darshan | 4.30 |
| Bhog | 5.30 |
| Shayan Aarti and Door Close | 8.30 |
| Digital Musical Fountain Timings | 7.30 PM to 8 PM |
Prem Mandir Location and How to Reach

Prem Mandir is located in the outskirts of Vrindavan town and distance from Mathura city is 10 KM. The nearest railway station is Mathura Junction, which is just 12 KM from here. Mathura Junction is located on very busy route and it is very well connected from the rest of the country. The nearest airport is Agra airport at 85 KM far which offers limited flight options. Devotees can reach at Mathura city from various modes of transport like rail and road, the rest of the journey till Vrindavan can be covered via road only.
Facilities at Prem Mandir




Various modern facilities are available inside the temple complex for the convenience of devotees. Free shoe counter is located in the temple. Visitors can use the drinking water and clean washroom facility here. A modern cafeteria is located inside the complex. Photography is allowed in the complex and it is prohibited in the main temple. Visitors must visit this place if they are in Vrindavan. Prem Temple looks very beautiful and mesmerizing in the night.
The contact number of temple authority is +91-9759004000 and address of temple is JKP Shyama Shyam Dham, Raman Reti, Vrindaban, District Mathura Uttar Pradesh.
Visit Banke Bihari Temple and ISKCON temple of Vrindavan, Mathura. Also know about Taj Mahal and Agra Fort.