Dakshineswar Kali Temple Kolkata
Temples are the most peaceful and divine place on the earth. People should often pay a visit to the temples. Dakshineswar Kali Mandir is a Hindu temple in Kolkata. It is the most famous and visited temple of Kolkata city visited by thousands of devotees regularly. It is situated in the Dakshineswar area on the banks of the Hooghly river. It is a very sacred place of Kolkata and it must be included in visitor's itinerary. This temple is dedicated to Bhavatarini Kali god. As per the tripadvisor, Dakshineswar Kali Temple is rated number one tourist place in Kolkata.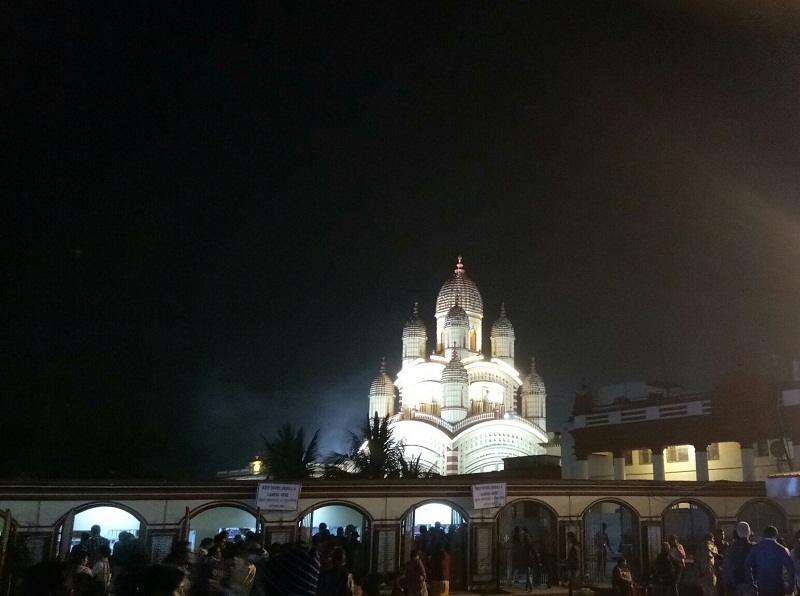 About Dakshineswar Kali Temple
Construction of the temple was begun in 1847 by Rani Rashmoni after a dream. The temple was built in 1855 on 20 acres area with the cost of 9 thousand rupees of that time. The goddess Kali deity was installed in this temple on 31 May 1855. It is made as per Bengali architecture and it spreads in three-storied building. Kali Puja, Snana Yatra and Kalpataru Day are the main festivals are celebrated here. 12 Shiva temples and 1 Radhakrishna temple also built in the temple premises.
Dakshineswar Kali Temple Timings
Timings of Dakshineswar Kali Mandir are different from season to season. At least 1 to 2 hours are required to visit the main temple and visiting time depends on the day of the visit. Generally devotees need to stand in Long queues, so plan a visit on a weekday in early morning if you have less time to spare. Also check the Aarti timings before planning a visit to this temple.
October to March Temple opening time is 6 AM in the morning and it closes on 12.30 in the noon time. It opens 3 PM in the noon and closes 8.30 PM in the night. It remains closed in the afternoon from 12.30 to 3.
April to September Open from 6 in the morning to 12.30 in the noon. In the afternoon, it is opening time 3.30 and closing time 9 in the night. It remains closed in the afternoon from 12.30 to 3.30.
Dakshineswar Kali Temple Aarti Timings and Schedule
Aarti is the way to offering the prayers to the Hindu god. Various aarti are performed in the temple as per the aarti schedule. Below is the aarti timings of Dakshineswar Kali Mandir along with the schedule.
| Aarti Types | Timings |
| --- | --- |
| Mangal Aarti (summer) | 04:00 AM |
| Mangal Aarti (Winter) | 05:00 AM |
| Bhog Aarti | 12:00 PM |
| Sandhya Aarti (Summer) | 07:00 PM |
| Sandhya Aarti (Winter) | 06:00 PM |
Dakshineswar Kali Temple Entry Fee
There are no tickets in the temple, entry is completely free. Visitors can purchase Bhog coupons for having tasty meal. Limited number of seats are available for this delicious bhog. Bhog timings are 12 PM everyday from Monday to Sunday. Visitors need to collect bhog coupons till 10 AM. Bhog price is very minimal.
Facilities
Parking is available here and visitors should park their vehicle in the designated space. Restrooms are clean and shoes deposit counters are located here. Bags, mobiles, camera, laptops, etc. are not allowed inside the temple. They can be deposited in the locker by paying a nominal fee. The temple is very neat and clean with all basic amenities.
Dakshineswar Kali Temple Location Address and How to Reach

It is located in Dakshineswar area of Kolkata and this place is well connected with all the city area of Kolkata and Howrah. Visitors can reach here via road, rail and water mode. Dakshineshwar Railway Station is the nearest railway station and Kolkata railway station is around 10 KM from here. Howrah Railway Station is also around 10 KM. Ferry rides and boats are also an exciting way to reach here.
Contact Information: 033-25645222