Gwalior Mela 2023 Dates, Timings and Entry Fee
Gwalior Mela 2023 is one of the biggest trade events in India. It is the biggest and most talked about event in the city. Every year millions of visitors came here for shopping, seminars, cattle fairs, attend cultural events, and fun in the city. Gwalior Mela opening date is 05 January 2023 officially. However, Gwalior Mela has already started and we visited the Gwalior trade fair on 25 December 2022. During our visit on 25 December 2022, most of the shops and stalls are under preparation. Around 30 Lac visitors are expected to attend this event, although, the Gwalior city population is only 10 lakh. People of Gwalior city, nearby cities, and villages came here to attend Gwalior Vyapar Mela. Gwalior Mela 2023 is also expected to be attended by lakhs of people. Previous year Gwalior Mela was held partially and traders suffers a huge loss. Traders from many cities came here for participation and business. It is one of the most awaited events and every year traders and people are waiting for this event eagerly. 2023 Gwalior Mela is organized by the Gwalior Trade Fair Authority every year. It is also known as Shrimant Madhav Rao Scindia Vyapar Mela.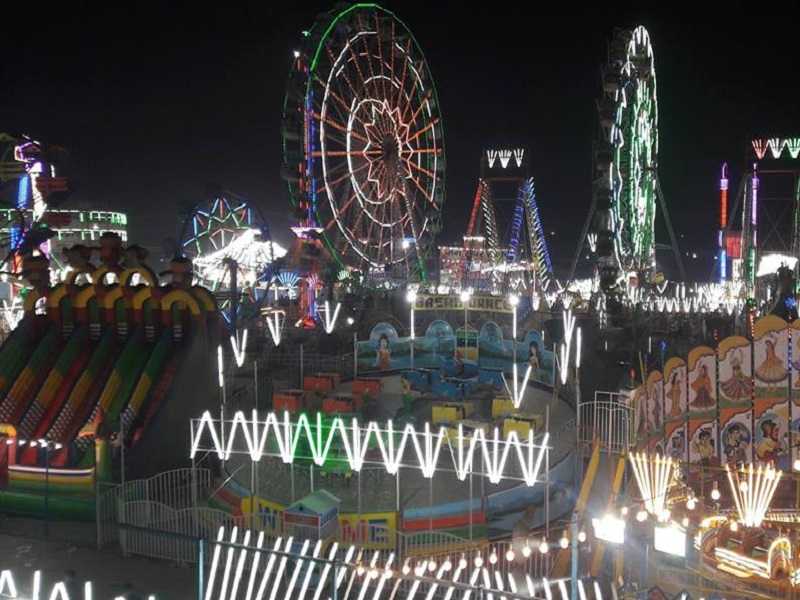 History of Gwalior Vyapar Mela
First Gwalior Mela was inaugurated by Maharaja Madho Rao Scindia in 1905. It is more than a century-old trade fair dedicated to culture, tourism, and trade of state. It is organized in an area of around 104 acres every year. It is a modern fair with all the basic amenities. Visitors came here for shopping, eat tasty food, and watch cultural events along with the fun of various swings and rides. This fair is also known as Pragati Maidan of Madhya Pradesh and is often compared to the Pragati Maidan Trade Fair.
Gwalior Mela is organized in Mela ground which is located on the race course road. The Gwalior Vyapar Mela venue is very near to the Railway station and Roadways bus stand. Gwalior Trade Fair Popularity is increasing day by day. Fair is organized in a large area and this area is divided into multiple blocks.
Main Attractions of Gwalior Mela



Some of the major attractions of Gwalior Ka Mela are written below. The whole fair is divided into multiple sections and they are known as sections and chatri.
Main sectors are electronics, exhibitions, furniture, garments, Jhula, luggage, sports, and toys sectors.
A separate food zone is also available and it is mainly divided into four sections. The name of the sections is Softy, Coffee, Fast Food, and Restaurant.
Toy center is famous amongst kids and children.
Haasya Kavi Sammelan is one of the most crowd-gathering events of Gwalior Mela.
Kavvali Dangals, Mushairas, Cultural Evenings, and Music Nights also attract a large crowd.
The cattle trade fair is an important part of the fair and more than 10, 000 cattle are sold here every year.
Shilp Bazar of the Gwalior Mela deals in handmade art and craft items.
The Jhula section is full of adventures and it has many swings and rides for kids of all age groups. A large crowd is expected in this section.
Gwalior Mela 2023 Timings and Date
Gwalior Mela 2023 starting date is 05 January 2023. Jyotiraditya Scindia will inaugurate this fair. The last date of the fair is in February 2023. Timings of the Gwalior ka Mela are 11 AM to 9 PM. Weather remains pleasant in Gwalior in the month of January and February. A Minimum of 3 to 4 hours are required to visit this Mela. Most of the people came here in the evening time after finishing their daily tasks. The weekend attracts a large crowd here.
Gwalior Mela 2023 Entry Fee
The good news of this trade fair is that entry is completely free for all age groups of people. The visitor need not purchase any tickets to get entry to the Gwalior Trade fair 2023. All visitors can visit this fair without any tickets.

Gwalior Trade Fair Parking
Many parking lots are available to park vehicles. A nominal entry is applicable to park the vehicles in the fair. It is advisable to park the vehicle in the designated space while visiting the fair. Road side parked vehicles can be towed by the city traffic department.
Facilities at Fair
All the basic amenities are provided at the fair for the convenience of fair visitors. Parking is available here. Drinking water and multiple toilets are here for visitors. Hospitals, first aid facilities, police stations, banks, and export facilitation centres are available in the Gwalior Mela Ground complex. 50% discount on registration fees on vehicles purchased from the fair. Gwalior Mela 2023 car price will be cheaper than the market price after a discount of 50% of the registration fee.
Gwalior Mela Map, Location and How to Reach
Mela is organized in Mela ground on Racecourse road. This location is around 2 KM far from Gwalior Railway station and Roadways bus stand. Location is easily accessible via all modes of road transport. Tempo, auto rickshaws, and city buses are running on the race course road throughout the day. Mela ground is one of the most important landmarks of Gwalior city.

This information is gathered from many sources and we are trying to provide the latest information on city's favorite Gwalior Ka Mela.