India vs South Africa Ranchi ODI Tickets Price and JSCA Seating Arrangement
India vs South Africa Ranchi ODI tickets are in high demand as for South Africa tour of India 2022. JSCA Ranchi stadium is a newly built stadium of the state. Ranchi is the home town of Mahendra Singh Dhoni and a One-day international match of the South Africa tour of India 2022 is scheduled in this stadium. Till now it hosts many matches and all of them were houseful. The first match of India vs SA will be played at this stadium on 09 October 2022. It is one of the best stadiums to watch live international matches. This stadium can host day-night matches too. We have shared the India vs South Africa Ranchi tickets price 2022 after the official announcement. Jharkhand State Cricket Association has announced the ticket prices for India vs South Africa match 2022 on 16 September 2022. As per our expectations, tickets will be available for sale as per the seating capacity of the stadium.

The JSCA International Stadium is also known as Ranchi cricket stadium as it is located in Ranchi, Jharkhand. It is a newly built cricket ground established in 2010 and it inaugurated in January 2013. Kothari Associates Pvt. Ltd. is the architect of Ranchi Stadium. A complex owned and managed by Jharkhand State Cricket Association. First ODI was played here on 19 January 2013 in which India won the match by 7 wickets with the help of Virat Kohli's 77 runs knock.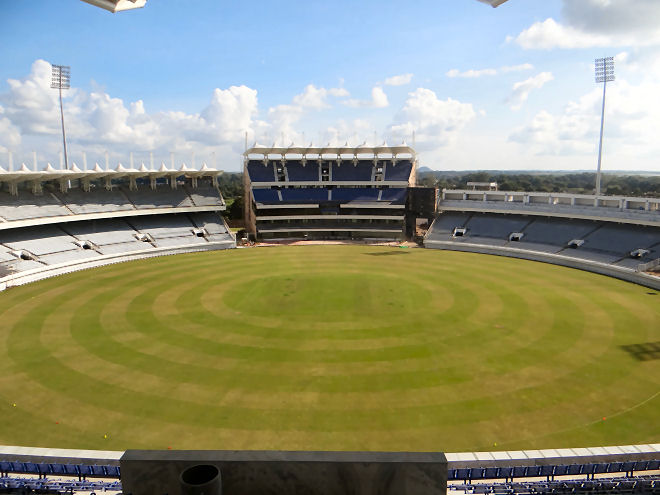 Ranchi Stadium Profile
Ranchi is the Home Town of Mahendra Singh Dhoni. He was the former captain of Indian Cricket Team. 4th One day international Day Night match between India and New Zealand was played here on 26th October 2016 as a part of 5 ODI match series. The seating capacity of the Ranchi cricket stadium is 40,000 and whole JSCA International Stadium Complex spreads in an area of 130,000 Square meters.
India vs South Africa ODI Match Ticket Booking Procedure

Ranchi cricket stadium has hosted ODI, test, T20 and some IPL matches till now. Now, most cricket match tickets are booked online mode. The online ticket can be booked through the insider web portal and app. The ticket booking procedure generally starts a few days before the scheduled match. Ticket booking for India and South Africa ODI match starts a couple of days before the match. We have updated all the details after the official press release. The sale of JSCA tickets will start in offline mode through the ticket counter. During the last international match, fully vaccinated people were allowed inside the stadium or people with negative RT PCR report issued after 15th November 2021.
India vs SA ODI match is scheduled to play in this Ranchi cricket stadium. This match is the part of South Africa tour of India 2022. Ticket booking of India vs SA match will start from 06 October 2022 to 08 October 2022. The official announcement is out for the sale of tickets. As per the previous matches, this time tickets are available in both offline and online mode.  India vs South Africa ticket price starts from 1100 Rs for 50 over game.
As per the press release, offline tickets sale will start on 06 October 2022 from specially demarcated counters on the Western side of the stadium, and sell of tickets will end on 08 October. Ticket counter timing is from 9 AM to 4 PM and lunch break time is 1 AM to 2 PM. A person can purchase maximum 3 tickets after showing their Aadhaar card. The online sale will start through the insider website and app.
Upcoming International Match Schedule at Ranchi Stadium
| Match Name | Series Name | Date |
| --- | --- | --- |
| India vs South Africa ODI | SA Tour of India 2022 | 09 October 2022 |
Ranchi Cricket Stadium India South Africa ODI Tickets 2022
Good news for Ranchi cricket fans, visitors will be allowed inside the stadium to watch the live match between India and South Africa ODI. After a gap of 3+ years, One-day international match will be played in this stadium on 09 October 2022. India vs South Africa Ranchi ODI ticket price starts from 1100 rs and the costliest ticket price is 10000 with hospitality. Tickets are available in the range of 1100 to 10000. Other ticket rates are 1400, 1500, 1700, 1800, 1900, 2000, 4500, 5500 and 8000. Lower rate tickets are in high demand and people are looking for the tickets. As per the official source, ticket sales start a few days before the match. We have included the JSCA press release in this post.
We have updated the below table after the detailed announcement of tickets. JSCA ticket price 2022 start from 1100 Rupees and the most expensive ticket rate is 10000.

| Stand Type | Ticket Prices |
| --- | --- |
| Wing A | |
| Lower Tier | 1400 |
| Upper Tier | 1100 |
| Wing B | |
| Lower Tier | 1900 |
| Upper Tier | 1500 |
| Wing C | |
| Lower Tier | 1400 |
| Upper Tier | 1100 |
| Wing D | |
| Lower Tier | 1800 |
| Upper Tier | 1700 |
| Amitabh Choudhary Pavilion (North Pavilion) | |
| Premium Terrace | 2000 |
| Corporate Box | 4500 (With Hospitality) |
| Hospitality Box | 5500 (With Hospitality) |
| Corporate Lounge | 8000 (With Hospitality) |
| Presidents' Enclosure | 10000 (With Hospitality) |
| MS Dhoni Pavilion (South Pavilion) | |
| Luxury Parlour East | 6000 (With Hospitality) |
Ranchi Cricket Stadium Seating Layout
Ranchi stadium seating capacity is 40,000 and the layout is showing the North and South Pavilion. It clearly depicts all the wings and stands for watching cricket match.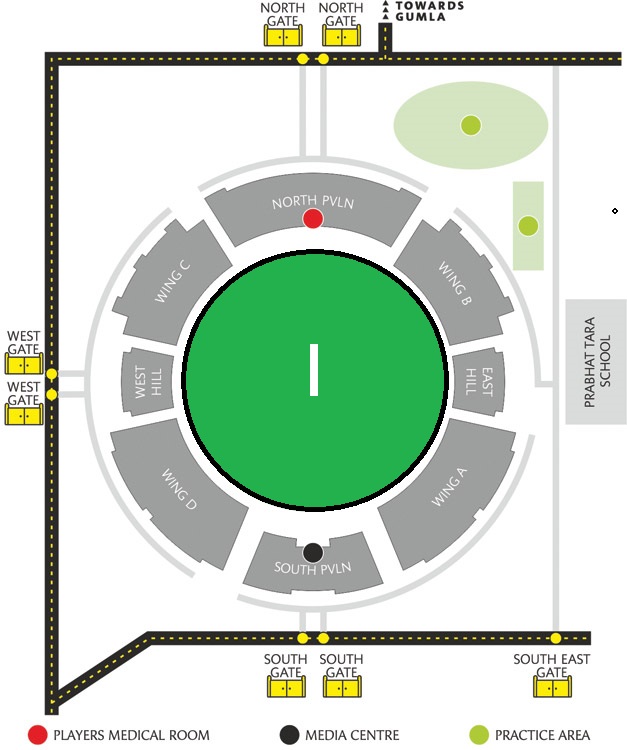 Entry gates and nearby roads along with cricket players medical room, media centre and practice area are marked on the seating map.
Ranchi Stadium Map
Ranchi ground is located just 7 KM away from Birsa Munda airport and Ranchi railway station is just 10 KM away from the Ranchi cricket ground.
JSCA Stadium Facilities
Stadium is newly built and it has all basic facilities for the convenience of visitors. Washrooms, drinking water is available and the cafeteria serves the food to the visitors at a reasonable price. The stadium is located inside the boundary of Ranchi city, so it is advisable to reach here through public transport. During the match opening and closing time, the nearby roads get choked due to the crowd. It is advisable to reach the JSCA stadium one to two hours before the scheduled time.



Useful Information
Carry only wallet and mobile while going to watch cricket match in Ranchi stadium. Headphones, earphones, data cables, chargers, coins, power banks, water bottles, plastic bags, etc. are not allowed inside the stadium due to security restrictions. Baby foods, diaper and other baby items are allowed in the stadium after proper checking. Kindly avoid carrying restricted items inside the stadium; you might get any surety of safe keeping of these items. I also had to deposit my Philips headphones in an open bucket in the Feroz Shah Kotla stadium during T20 World cup 2016 and they were lost in all the hustle bustle.
Contact Information
Official website is cricjharkhand.org. Contact numbers are 0657-2432722, 2233950 and official mail ID is jsca_keenan@rediffmail.com.
Disclaimer: All efforts are made to supply the correct information and we are not selling any tickets for the matches. We are just providing information.