Rajkot Cricket Stadium Ticket Booking Procedure and General Information
Rajkot Cricket Stadium
Rajkot Cricket Stadium or Saurashtra Cricket Association Stadium is located in Khandheri, Rajkot (Gujarat). It is the first solar-powered stadium of Gujarat. It is also known as Khandheri Cricket Stadium, it was built in 2008 and has a seating capacity of 28,000. The Rajkot cricket stadium is a part of large sports complex where you can enjoy other sports like badminton, volleyball, and basketball. Madhavrao Scindia Cricket Ground is also located in Rajkot city and it hosts many ODI matches. Madhavrao Scindia Cricket Stadium is an old stadium as compared to Rajkot Cricket Stadium.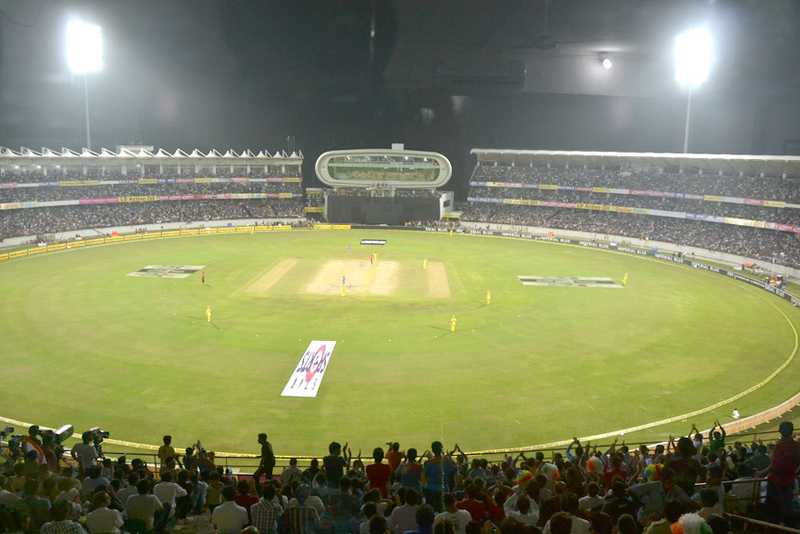 It is one of the kind stadium and the media box has the similar design as Lord's cricket stadium in London. It is the home ground of  Ranji team, Saurashtra cricket team and Gujarat Lions IPL team. It is one of new stadium among six who got the status of Test match venue. Chetesteshwar Pujara has made a double century and Ravindra Jadeja has made a triple hundred in the Rajkot Cricket Stadium. The first one day international match was hosted here on 11 January 2013. In this high scoring match England beat India by 9 runs. India has never won ODI match here till now. The first Twenty 20 international was played here on 10 October 2013, where Indian cricket team chases down the score of 201 with the help of Yuvraj Singh's knock of 77 runs in just 35 balls.
Upcoming International Match Schedule at Rajkot Stadium
| Match | Series Name | Date |
| --- | --- | --- |
| India vs New Zealand 2nd T20 | New Zealand Tour of India | 4 November 2017, Wednesday |
Good news for Saurashtra Cricket Association Stadium Rajkot fans. 2nd T20 of New Zealand tour of India will be played at Rajlot cricket stadium. Rest of the match of T20 series will be played at Feroz Shah Kotla Stadium and Trivandrum International Cricket Stadium. Rajkot stadium ticket prices for India New Zealand match will be published soon after the official announcement from ticket booking site or organizing agency.
India New Zealand 2nd T20 Tickets
India New Zealand 2nd T20 tickets for Rajkot cricket stadium has been started in online mode through Bookmyshow website and app. Match is scheduled for 4 November 2017. Visitors who are willing to watch the live match at stadium can buy the Saurashtra Cricket Association Stadium Rajkot tickets from bookmyshow. Rajkot stadium ticket prices are affordable to pocket and tickets rates starts from 800 Rs. Rajkot cricket stadium ticket prices are 800, 1200, 1500, 2000, 4000, 5000 and 6000. Rajkot stadium ticket booking process is very simple and visitors can book the tickets online by paying internet handling fees along with the ticket price. Tickets will be delivered by courier to the address, if home delivery is not available original entry tickets can be collected from ticket box office. Click this link for ticket booking.




Ticket Booking Procedure IPL 2017 Matches
Rajkot cricket stadium tickets can be booked with the help of ticketgenie.in website in few simple steps.
Open the ticketgenie website and select the desired ticket of matches.
Select the seats from virtual layout as per your convenience.
Go to checkout page and enter details of your debit card, debit card or other given payment methods (net banking, mobile wallets, etc.)
Check your mail or mobile number for the confirmation message.
Take a printout of your mail along with the card used for mobile booking and collect the tickets from the Box office.
Bingo Your Tickets are Booked.
Online tickets can be redeemed from box office counter or can be couriered to your location by paying extra charges. Home deliver option is available of IPL tickets.
Ticket starts from 500 rs and season ticket of all the matches can also be bought from the site.
Box office Pickup Address:
Redemption Location: Saurashtra Cricket Association Stadium.
The mobile message or mail printout is not valid, To get an entry in the Saurashtra Cricket Association Stadium you need to collect the tickets from the box office. Gujarat Lion Rajkot Cricket Stadium IPL Tickets can be purchased by clicking here.
Rajkot Stadium Venue Map – Gujarat Lions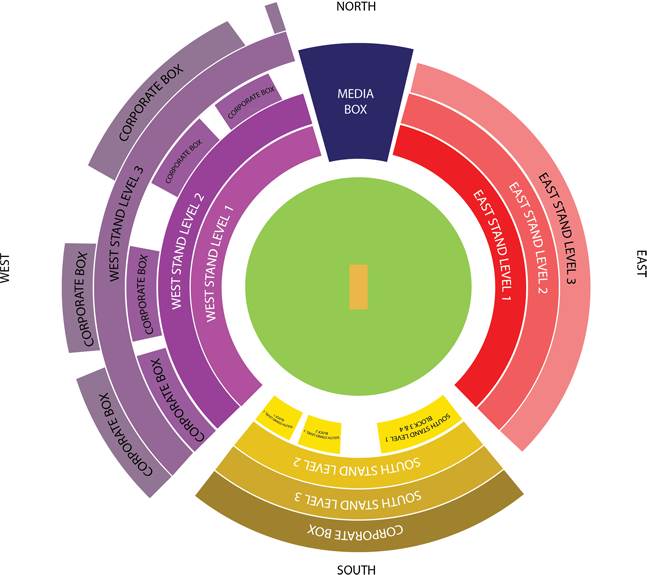 General Guidelines
To avoid any problems in the last minute it is advisable to follow some guidelines. Only mobile phones, wallet, baby food, and diapers are allowed in the Rajkot cricket stadium. Earphones, headphones, chargers, cables, water bottles, coins, metallic objects, arms, ammunition, power banks etc are not allowed in the stadium. I haven't experienced any match in this cricket stadium, however, all stadiums didn't allow the above mentioned items in the stadium due to security reasons. So it is advisable not to bring these items. The official website is Saurashtra Cricket Association.
Rajkot Cricket Stadium Location Map
Also, read about Chinnaswamy Stadium.
Saurashtra Cricket Association Stadium Seating Arrangement
Seating layout of Saurashtra Cricket Stadium is showing all the gates of the stadium along with media boxes, major road, Practice pitch and corporate box. Stadium layout also depicting the stand numbers, pavilions to find and book your seats easily.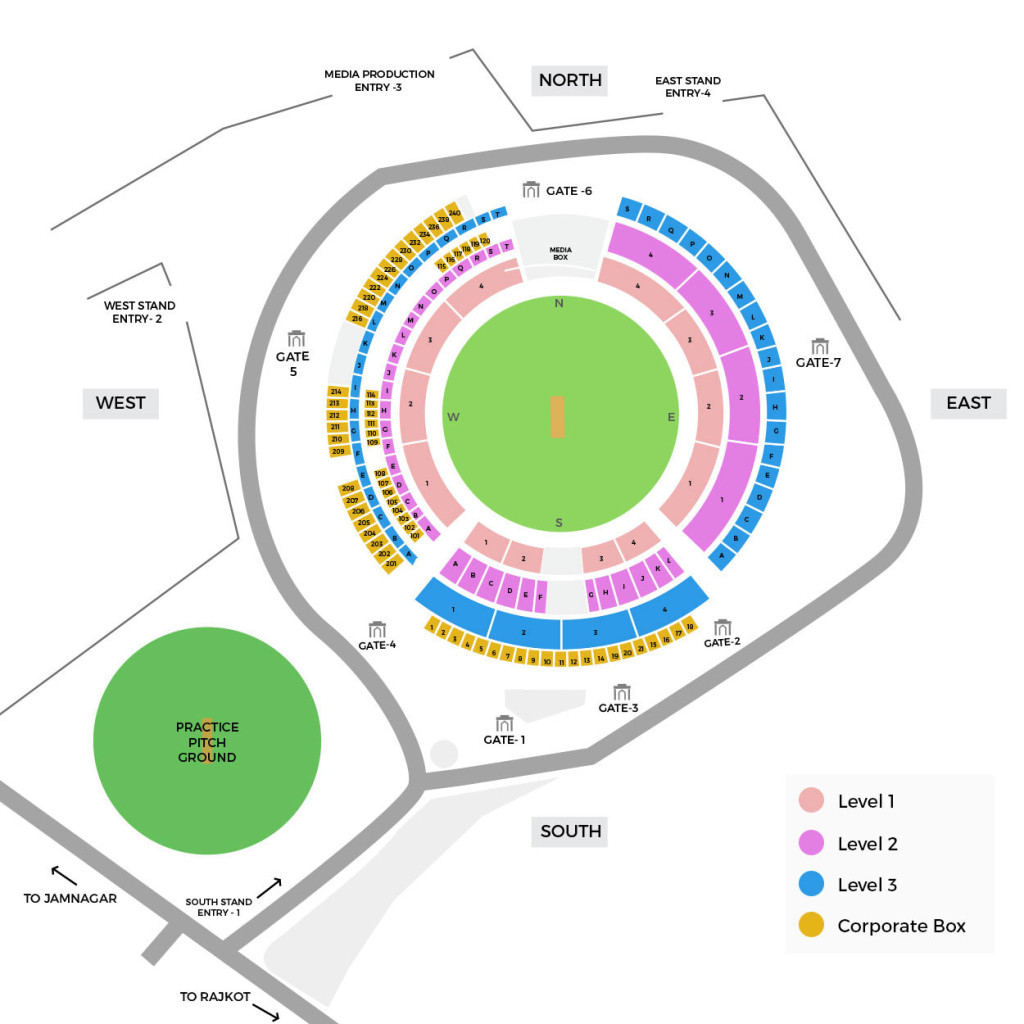 The cricket pitch and all the directions are marked on the layout.
Stadium Facilities
The Rajkot cricket stadium has all the basic facilities like clean washrooms, cafeteria, food stands, 60+ hospitality box, corporate boxes, etc. Stadium is quite new and only three international cricket matches are hosted here till now. You will not face any difficulties here regarding the basic amenities. The view from all the stands is fantastic. Saurashtra Cricket Stadium also has a stand for the disabled person, A disabled person can enjoy the cricket match in Rajkot stadium on his wheelchair with the help of an attendant.
IPL 10 Match Schedule 2017 at Saurashtra Cricket Stadium




This stadium is hosting five matches of IPL 2017.
| Team 1 | Team 2 | Date | Time (IST) | Day |
| --- | --- | --- | --- | --- |
| GL | KKR | 7 April 2017 | 20:00 | Friday |
| GL | RSP | 14 April 2017 | 20:00 | Friday |
| GL | RCB | 18 April 2017 | 20:00 | Tuesday |
| GL | KXI | 23 April 2017 | 16:00 | Sunday |
| GL | MI | 29 April 2017 | 20:00 | Saturday |
Check Complete IPL 2017 Schedule
IPL 2017 Stadiums – Hosting IPL 10 Matches
Download IPL 2017 Schedule PDF
Also know about Uppal Cricket Stadium.