Pragati Maidan Trade Fair 2021 Tickets Price – Pragati Maidan Ticket Price
Pragati Maidan Trade Fair 2021 Tickets Price @Bookmyshow – The demand for the Pragati Maidan trade fair 2021 tickets is very high as trade fair will resume after a pause of 1 year due to Covid-19 Pandemic in India. Trade fair 2020 was cancelled due to Corona virus and now this year India International trade fair 2021 will be held with some limitations. Atmanirbhar Bharat is current year theme for the trade fair. Pragati Maidan Trade Fair 2021 Tickets Prices are out and they are costlier than 2019. Trade fair 2021 is scheduled in Pragati Maidan and IITF dates are 14th to 27th November 2021 and the first 5 days of India International Trade Fair are reserved for business visitors. The Trade Promotion Organization has increased the ticket price and they are not same as last year for Trade fair and tickets are expected to be available in online mode also for like last time.

Trade Fair 2021 Tickets will be available at Metro stations and Bookmyshow online website. This website starts selling the tickets in online mode and people who are planning to visit the fair should check the official website for the same. This time trade fair is also held in less space due to ongoing construction so the entry for the fair might get closed early to handle crowd. Official website IITF has announced all the notifications regarding the 2021 trade fair. The Pragati Maidan trade fair 2021 tickets price for the first 5 days would be sold for business visitors. It would be having higher price as compared to the Pragati Maidan ticket price for the regular visitors.

Separate days are reserved for business visitors to avoid any impact on the business of trade fair. The regular days of trade fair are very busy and hence it is a bit tough for the business visitors to carry on with their purpose of visit. We may see a lot of visitors this time and hence, the organizers keep a limit on the number of visitors.
Business days for trade fair will be from 14 to 18 November 2021 and Public days are from 19-27 November 2021. Detailed Delhi Trade Fair 2021 ticket price will be shared after the official announcement in the below Table.
Pragati Maidan Trade Fair 2021 Tickets Price
ITPO has announced the price of trade fair tickets 2021.

| Single Ticket Price (including GST) | Business Days ( Rates in INR) | Non-business Days (Rates in INR) |
| --- | --- | --- |
| Adult (Weekend and Gazetted Holidays) | 500 | 150 |
| Adult (Weekdays) | 500 | 80 |
| Child (Weekend days and Gazetted Holidays) | 200 | 60 |
| Child (Weekdays) | 150 | 40 |
| Senior Citizens* | Free | Free |
| Specially-abled (Divyang)* | Free | Free |
| Season Ticket for Business Days Only (All 5 Business days) | 1800 | NA |
| Season Ticket for Non-Business Days Only (All 9 Non-Business days) | NA | 800 |
| Season Ticket for Exhibitors Only (All 14 days) | 2000 | 2000 |
Visitors need to pay 80 Rs on weekdays for Adults and for children entry free up to 12 years of age in IITF. Weekdays are from Monday to Friday. On weekends (Saturday/Sunday) or Public holidays visitors have to pay 150 Rs for an adult ticket and child entry is free up to 12 years. The ticket is valid for single entry.
Business tickets are available by paying 500 Rs and seasonal ticket can be purchased in 1800 Rs. Seasonal tickets are valid from 14 November to 18 November 2021. Non Business Day season ticket price is 800 Rs. All 14 days business ticket price is 2000 and it provides entry for all business days and regular days. ITPO is providing *free entry for senior citizens and persons with a disability after producing valid age/physically handicapped document with a photograph on any gate of Pragati Maidan. Attendants coming with senior citizens and the physically handicapped persons need to buy the full ticket.
Pragati Maidan Trade Fair Latest Updates
Despite the small space in Trade fair, visitor craze is high to visit the Pragati Maidan. Delhi Traffic police and ITPO has made full arrangement for the fair. Delhi Traffic police have issued the traffic advisory for the interest of people who are planning to visit fair. Also, they appealed to people who are not coming to see trade fair should not take road adjoining the Pragati Maidan.  Long queues and the heavy rush is expected in the fair during the long weekend of Friday, Saturday and Sunday. Trade fair 2021 tickets might be sold out early due to heavy rush and the good news is that you can book Trade fair 2021 tickets online in advance.

27 November will be the last day of the fair. If you are looking to visit the fair during these last days, make sure to purchase tickets from metro stations mentioned on this page or you can book the trade fair tickets online. Trade fair tickets are not available at Pragati Maidan ticket counters and Pragati Maidan metro stations. Buy tickets in advance due to less space and high crowd. Also, try to reach the venue early to avoid long queues. The entry gates are quite crowded on weekends and one should try to buy tickets in advance. To avoid too much rush, IITF authorities has mostly kept a check on the number of maximum visitors on a single day. It is a good way to avoid any mismanagement on the crowded days.
General visiting dates will be started at the Pragati Maidan trade fair from 19 November 2021. Now visitors can visit the trade fair by purchasing normal entry tickets from Metro stations and online tickets. The main highlights of the trade fair are various state pavilions that are selling their regional items and tasty local cuisines. Various types of clothes, local food, handmade items are available at these state pavilions. This place is ideal for those who want to try their hands on photography. Various locations are available in the complex for selfie lovers. Elephant statue of Tamil Nadu, Tiger, and jungles of Madhya Pradesh, Palace on the entry point of the Rajasthan pavilion are some of the eye-catching spots of the trade fair. Visitors who are planning to visit the trade fair, they should buy Pragati Maidan Trade Fair 2021 tickets in advance due to less availability of entry tickets this year.
Delhi Trade Fair Tickets Update

Trade fair 2021 tickets will not be available on Pragati Maidan Metro station and ticket counters of Pragati Maidan. This year, visitors can book the tickets in advance online and India International Trade Fair 2021 tickets booking starts from bookmyshow in online mode. During previous years, Only 25000 tickets were allowed to sold on working days and 25 thousand tickets on weekends to control the crowd inside the complex. Sale of tickets might be closed early to manage crowd. The tickets are put up for sale at many locations. You should buy the tickets in time to avoid the risk of reaching the venue with no access inside due to the ticket limit reached. It is quite a smart move by the authorities which helps in managing the fair smoothly.
Pragati Maidan Trade Fair 2021 Entry Gates
Three gates are available for entry to inside the Pragati Maidan Trade fair 2021. Gate No. 1 on Bhairon road, Gate No. 11 will be used for entry. Gate No. 10 is also open for entry for Metro and other passengers. Gate No. 10 is very near to Pragati Maidan Metro Station. All the entry gates have proper checking and you will feel safe at the venue. You should also keep your eyes open and inform the security personnel if you see anything suspicious. The visitors are also responsible in keeping the venue safe and clean.
Less Space in 2021 Trade Fair
The 2021 trade fair will be organized at Pragati Maidan in 20% of the space as compared to last years. Very few square meters of space would be available for Vyapar Mela due to the ongoing construction work. A world-class Integrated exhibition cum convention center (IECC) is being built inside the Pragati Maidan campus. This building will be completed in two years in a budget of  2600 crore. It would be pretty good for the visitors and the organizers. The currently crowded venue will be having a lot of space and many new Pandals would be made here.
Due to construction, less number of exhibitors will participate in this event. Crowd control would be the main task for ITPO management. In 2016, around 15 lacs of people attended this 14-day event. In 2021 ITPO would try the reduce the visitors number up to 5 lac. This time the main focus is on the sale of online tickets through bookmyshow and no ticket sale on Pragati Maidan ticket counters. It is done to ensure that the venue do not have too much crowd. It helps in managing the crowd and keeping it safe. Earlier, the crowd was concentrated on the ticket counter and hence it used to be too crowded at the venue with many queues being created.
Most of the state pavilions have given less space as compared to the previous years. For the security of the visitors, many CCTV cameras are installed inside the Pragati Maidan Complex. One temporary police station will be made inside the complex and 400 volunteers of civil defense are in the security of visitors along with security personals. Security teams will be available inside every pavilion and hangers. One of the most popular event of Delhi trade fair, Dog Show might not performed this year.
Trade Fair 2021 Tickets at Metro Station
Pragati Maidan trade fair tickets are many available on all the metro stations except Pragati Maidan metro station to reduce the crowd on this metro station. Trade fair Tickets can be bought 4 days in advance from the metro station and ticket purchase timings are 8.30 AM to 5.30 PM. Booking of tickets can be stopped earlier to reduce the crowd inside the Pragati Maidan complex. Tickets are available on customer care centre of Delhi Metro stations.

Total 60 metro stations of various lines stations are marked for the sale of Pragati Maidan Trade fair tickets. A list of the metro stations are shared below.
| S. No. | Metro station | Line |
| --- | --- | --- |
| 1 | Dilshad Garden | Red |
| 2 | Shahdra | Red |
| 3 | Seelampur | Red |
| 4 | Inderlok | Red |
| 5 | Netaji Subhash Place | Red |
| 6 | Rohini West | Red |
| 7 | Rithala | Red |
| 8 | Samaypur Badli | Yellow |
| 9 | Jahangir Puri | Yellow |
| 10 | Azadpur | Yellow |
| 11 | G.T.B Nagar | Yellow |
| 12 | Vishwavidyalaya | Yellow |
| 13 | Rajiv Chowk | Yellow |
| 14 | Central Secretariat | Yellow |
| 15 | INA | Yellow |
| 16 | Hauz Khas | Yellow |
| 17 | Malviya Nagar | Yellow |
| 18 | Saket | Yellow |
| 19 | M.G.Road | Yellow |
| 20 | Huda City Centre | Yellow |
| 21 | Noida City Centre | Blue |
| 22 | Noida Sector -15 | Blue |
| 23 | Akshardham | Blue |
| 24 | Indraprastha | Blue |
| 25 | Mandi House | Blue |
| 26 | Barakhamba | Blue |
| 27 | R.K.Ashram | Blue |
| 28 | Karol Bagh | Blue |
| 29 | Rajendra Place | Blue |
| 30 | Shadipur | Blue |
| 31 | Kirti Nagar | Blue |
| 32 | Rajouri Garden | Blue |
| 33 | Subhash Nagar | Blue |
| 34 | Tilak Nagar | Blue |
| 35 | Uttam Nagar East | Blue |
| 36 | Dwarka Mor | Blue |
| 37 | Dwarka Sector-21 | Blue |
| 38 | Vaishali | Blue |
| 39 | Kaushambi | Blue |
| 40 | Anand Vihar | Blue |
| 41 | Karkarduma | Blue |
| 42 | Preet Vihar | Blue |
| 43 | Nirman Vihar | Blue |
| 44 | Laxmi Nagar | Blue |
| 45 | Ashok Park Main | Green |
| 46 | Peeragarhi | Green |
| 47 | Nangloi | Green |
| 48 | Mundka | Green |
| 49 | Bus Stand | Green |
| 50 | Kashmere Gate -6 | Violet |
| 51 | Delhi Gate | Violet |
| 52 | I.TO | Violet |
| 53 | Lajpat Nagar | Violet |
| 54 | Kalkaji Mandir | Violet |
| 55 | Govind Puri | Violet |
| 56 | Badarpur Border | Violet |
| 57 | Escort Mujesar | Violet |
| 58 | Durgabai Deshmukh | Pink |
| 59 | South Extension | Pink |
| 60 | Sarojini Nagar | Pink |
| 61 | Welcome | Pink |
| 62 | Shiv Vihar | Pink |
| 63 | JanakPuri West | Magenta |
| 64 | Palam | Magenta |
| 65 | Munirka | Magenta |
| 66 | Botanical Garden | Magenta |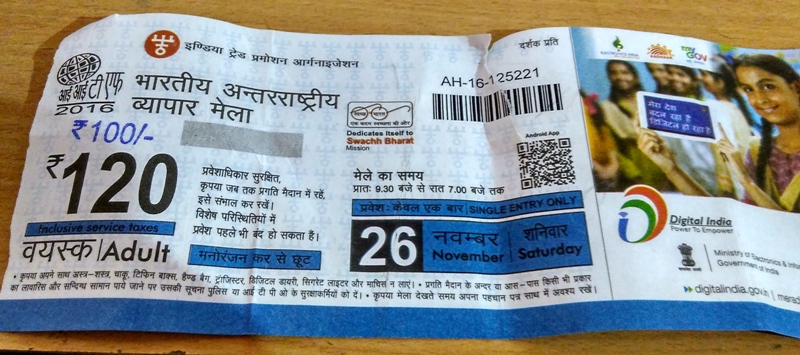 Trade Fair Delhi 2021 – Pragati Maidan Layout
Below layout plan of Pragati Maidan is showing all halls for IITF 2021. Click on image for larger size.
Pragati Maidan layout map is showing the nearby roads, all entry gates, railway lines, state pavilions, food courts, restaurants, canteens, Mansarovar lake, theaters, foot over bridge, traffic police pavilion, etc.
This time ITPO has decided to increase some facilities for the visitors. School students can visit the trade fair during business days in just 50 Rs instead of 500 Rs. Students will have to come in School dress with School ID, for these schools have to send their application in advance to ITPO. ITPO is also planning to provide free Wi-Fi to the visitors.
Trade Fair Delhi Timings
9:30 AM to 7:30 PM and entry can be availed till 5 PM. Due to heavy crowd on weekends entry can be restricted before the scheduled time.
IITF Delhi Dates 2021
14-27 November 2011. 14-18 November is reserved for business visitors and general visitors can visit the fair from 19-27 November 2021.
Nearest Metro Station
Pragati Maidan Metro Station of Blue Line
IITF Online Ticket Booking Link: bookmyshow.com.
Facilities
Shuttle Bus Service is available from Mandi House to Pragati Maidan on interval of 10 to 20 minutes. This bus service is free of cost and visitors can also buy IITF tickets from the bus also. The bus service is available from 14 to 27 November (IITF Dates).
ITPO has installed ATM inside the complex to smooth facilitation of cash withdrawal. Wi Fi facility is also available in some halls.
Check Places to visit in Delhi
Check Delhi Trade Fair Images and Videos