Anandi Water Park Lucknow Ticket Price 2023,Timings, Location
In the summer visitors find the coolest places for outings and water parks are the best option for summer outings with family and friends. In Lucknow city many water parks are available, Anandi Water Park Lucknow is one of the best options to enjoy in the summer's hotness with the best slides.  Anandi water park Lucknow ticket prices, parking, locations, and timings are given for visitors help.
Lucknow has many historical and amazing places to visit. Many tourists come to Lucknow from across the world to taste the culture of the city. In the summer many people try to avoid the visit open and hot places. To beat the heat Anandi water park is the best and most good option in Lucknow visit. This beautiful water park started on 09th April 2002. This water park has many slides. Anandi Water Park spread its chain and opened Anandi resort & club. This park is for all age groups it is also a good option for family picnics.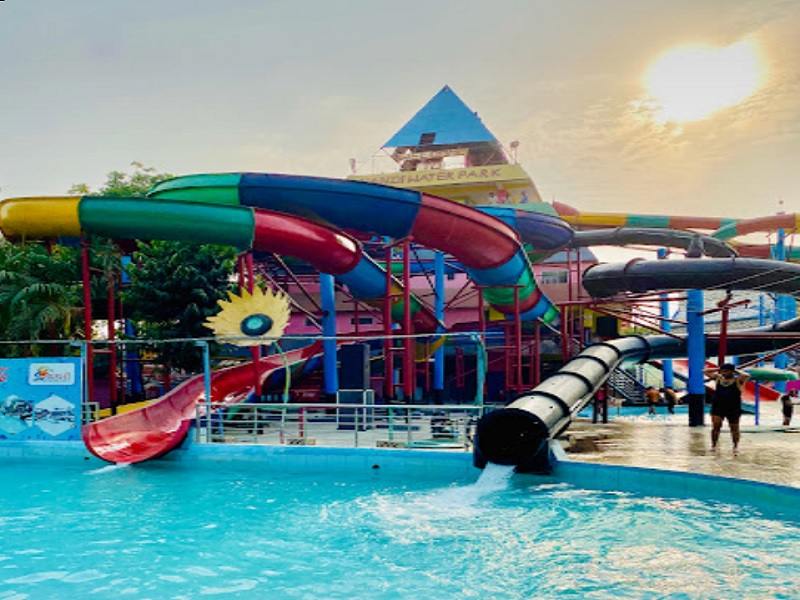 In this water park visitors experience the many slides, waterfall, wave swimming pool, AC conference hall, green lawns, Aqua dance floor with D.J., locker facility, etc.
Anandi water park is equipped with many slides like Aqua trail, backless, black hole, cyclone, dry landing, floaters, family ride, multi-lane, kids multilane, play pan, river ride green, etc. The slides give an adventurous experience and are full of fun to the visitors.
Visitors should follow some rules and regulations of this water park i.e.
No outside food & drinks are allowed in the park
Electronic equipments are not permitted within park premises
Nylon costume is compulsory
Pets are not allowed in the park
Tickets are not the refundable
Anandi Water Park Ticket Price 2023
In summer water parks are highly demanded by visitors, and they want to know the Anandi water park ticket price. Ticket prices are different on weekdays, weekends, holidays & on public holidays. In this water park school packages, group packages, picnic packages, corporate packages, and birthday and marriage packages are also available at discounted prices.
Anandi Water Park Lucknow Ticket Price
Days
Adult
Children
Monday to Friday
700
600
Saturday, Sunday & Public Holiday
800
600
Note: Children's height considered above from 70 cm to 120 cm, below 70 cm children are free in the park
For ticket booking, package discounts, and other information visitors can contact on below
Contact Number: 844-791-5925
Email ID: amittalwar@anandiwaterpark.co.in & at_anandi@yahoo.co.in
Anandi Water Park Lucknow timings
Anandi water park Lucknow's opening and closing timings are 10:00 AM to 06:00 PM, timings are given here for the visitors help to plan the full-day outing in the park. Visitors need to 5-6 hrs to cover the full park slides and other facilities.
Anandi Water Park Lucknow Timings
Days
Timings
Monday
10:00 AM to 07:00 PM
Tuesday
10:00 AM to 07:00 PM
Wednesday
10:00 AM to 07:00 PM
Thursday
10:00 AM to 07:00 PM
Friday
10:00 AM to 07:00 PM
Saturday
10:00 AM to 07:00 PM
Sunday
10:00 AM to 07:00 PM
Location of Anandi Water Park Lucknow
This beautiful park is located at Canal Road, Faizabad Road, Beside Indra Canal, Lucknow, Uttar Pradesh -226028
How to Reach Anandi Park Lucknow
The Anandi Water Park Lucknow is situated in the outer city. There are many options to reach here. The water park is 23 km far away from the Lucknow junction railway station and 35 Km from the Chaudhary Charan Singh International.
Car/Taxi: This water park distance is approx. 25 Km from the main city center and it took 40 minutes to reach here. A taxi and rental car are good options to reach here.
Auto Rickshaw: As this water park is not too far from the city, many autos also run between the city and to the water park. Visitors can take shared and independent auto as well.
Bus: City buses also run for the water park.
Metro: LMRC Metro Ltd. also runs the metro in Lucknow city. Visitors can reach a dedicated metro station and can take the shared auto to reach the Anandi water park.
Parking at Anandi Water Park Lucknow
Anandi water park parking has a big and spacious parking area, visitors can easily drive and park their cars hassle-free. The water park also charges parking charges i.e.50 Rs.