Lucknow Ekana Stadium Tickets – India vs WI T20 Tickets Booking Procedure
Ekana stadium tickets are out for sale through Paytm and Insider. Ekana International Cricket Stadium is newly built international cricket ground located in Lucknow city of Uttar Pradesh. It is the second international stadium of the state after Green Park stadium of Kanpur. Now the dependency on green park stadium will be reduced after the completion of this ground. Now Lucknow residents can watch and enjoy the live matches of cricket in the same city and they not need to travel 100 KM away to watch the international matches in Kanpur. It is a flood light equipped stadium to host day and night matches. Lucknow international cricket stadium is situated in the outskirts of the city. This stadium is in limelight due to upcoming T20 match of West tour of India in November 2018. West Indies vs India 2nd T20 will be played here on 6th November 2018. This stadium is having all the world-class amenities which are required for the hosting of an international level match.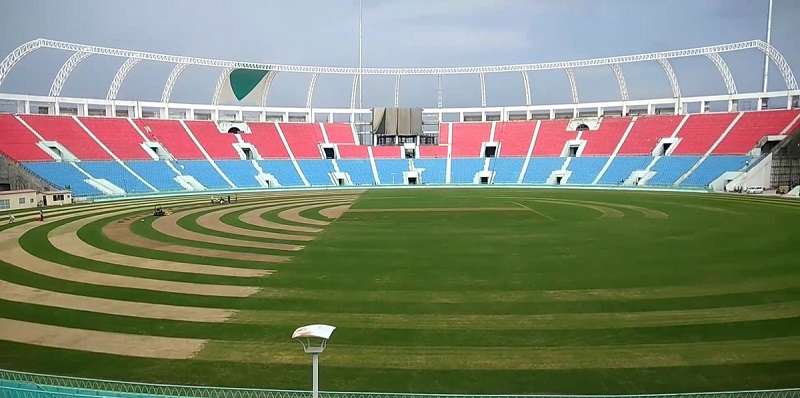 Lucknow international cricket stadium is built by Ekana Sportz City Pvt. Ltd. and they are the owner of this world-class stadium for next 35 years. It is architect by Skyline Architectural Consultants Pvt. Ltd. Now it is operated by Ekana Sportz City Pvt. Ltd. and it was built 2017. Duleep Trophy 2017-18 final and one match has been played here recently. This is a big stadium in term of seating capacity, 50000 spectators can easily sit in this stadium.
Upcoming International Match Schedule at Lucknow Stadium
West Indies and India will play their 2nd match of 3 match series on 6 November 2018. It will be the first international cricket match of this stadium. West Indies tour of India scheduled from October 2018 and it will ends in November 2018. Localities are super excited about this upcoming match.
India West Indies T20 Match Ticket Booking Process and Ticket Price
This is the inaugural match of Lucknow stadium and ticket searches are already in high demand. This is the first international match and Ekana stadium ticket prices are out, so that large number of fans can watch the live match of India vs WI. Nowadays, most of the match tickets are available in online mode and Ekana stadium India vs WI tickets are selling in online mode through Paytm and insider. We are shaing all details of Lucknow stadium WI vs India match tickets and all details.
Ticket starts from 1500 Rs and the highest ticket price is 23000 as per Paytm. 2000, 2500, 3000, 4000, 5000, 10000, 12000, 20000 and 23000 are the other ticker rates of Ekana Stadium Lucknow.
Ekana Stadium Tickets
In India, organizing authorities sell tickets mainly in online mode and some tickets are generally available through stadium ticket counters. Ekana stadium tickets are available for sell-through online mode. After the official declaration of the tickets, we have shared the Lucknow stadium ticket price of all the stands. Ticket sale is already started and we have covered the whole procedure of Ekana stadium ticket booking along with the Lucknow stadium ticket counters booking facility. You can book the tickets from Paytm or insider website or App.

Ekana International Stadium Seating Chart and Capacity
Ekana stadium seating capacity is 50000 and during a big event, it is tough to locate the seat. In these cases, Lucknow stadium seating map will help to find the seat easily. It is a newly built stadium and Ekana stadium seating chart is shared below. Stadium map depicts all the stand, pitch, pavilions, entry gates and other useful information of the ground.
Ekana International Stadium Facilities and Address
It ia an international level stadium ground and equipped with all the latest facilities. Seating capacity is 50000 and it has 9 red and black soil pitches for practice along with practice ground. North & South pavilion, dressing rooms, umpire box, dining area, match official box, corporate boxes, and VVIP lounges are situated in the stadium area for smooth functioning. Many luxury facilities are also available here for players like Sauna bath, Private Gym, Jacuzzi, Gym, Restaurant, sports and training academy, hostel, etc.

The stadium is located in the middle of Ekana Sportz City and it is located around 11 KM from Charbagh railway station of Lucknow. Stadium is located near the Gomti River and we have included the Google map of the Ekana stadium. Parking is available in the stadium itself and it can accomodate around 1000 cars and 5000 two-wheelers. It is advisable to come here in public vehicle during high voltage matches. At the time of entry and exit, visitors might face heavy traffic jam.
General Guidelines
As this is the first match in this stadium and many people might visit this cricket stadium first. Here are some guidelines before you make a visit to this stadium. Most of the items are banned in the stadium, mobiles and wallets are permissible inside the stadium. earphone, headphone, charger, cables, helmets, matchbox, coins, tobacco products, food, water bottles, etc are prohibited inside. Do not expect a locker for the safekeeping of items. Baby food and diapers might be allowed inside the stadium after the proper checking.
Always follow guidelines and security procedures to enjoy the live match in the stadium.
Click the link of paytm to book tickets from official source