Manipur Opinion Poll 2017
Party Wise Results
| Party | Won |
| --- | --- |
| Indian National Congress | 28 |
| Bharatiya Janata Party | 21 |
| Naga Peoples Front | 4 |
| National Peoples Party | 4 |
| All India Trinamool Congress | 1 |
| Lok Jan Shakti Party | 1 |
| Independent | 1 |
| Total | 60 |
Manipur second phase elections are finished today, 8th March, 2017. The voting commenced at 7 AM in the morning. We expected a high voter turnout in manipur elections. The last phase of Manipur election has happened on 8 March, Wednesday. After 5 PM on Thursday, we expect that many Manipur exit polls will be shared by news agencies. Election results will be shared by election commission on 11 March, 2017.
Manipur Exit Poll 2017
| Pollsters | BJP | INC | Others |
| --- | --- | --- | --- |
| India TV-C Voter | 25-31 | 17-23 | 9 - 15 |
| India Today-Axis | 16-22 | 30-36 | 3 - 5 |
Manipur Exit Poll by Cvoter
| Party | Seats |
| --- | --- |
| BJP | 28 |
| Congress | 20 |
| Others | 12 |
Manipur Opinion Polls by Various Agencies
Manipur is the Northeastern state of India and elections in Manipur was held in two phases along with Punjab, Goa, UP and Uttarakhand. Okram Ibobi Singh is the CM of Manipur from past 14 years. He is the member of Indian National Congress. The last elections were held in 2012 and Congress won the elections with majority. They were able to get 40 seats out of total 60 seats. In the upcoming Manipur elections 2017, congress will be eyeing to continue their government in the state. Whereas other parties like BJP and MPP would be trying to form their government. Election in other 4 states are underway currently, however their results will be declared with Manipur Election results.
As the elections are around the corner, various agencies have started to conduct opinion polls to get a good prediction of elections. Opinion poll are conducted on limited number of people so they can not be considered as the voters decision, however they can be used to get an idea of current scenario. Some Manipur Opinion polls are announced till now. We might see some more surveys in the coming months. INC has a good position in Manipur but none of the parties are predicted to win with majority. BJP and MPP are also anticipated to win a good share of votes.
Voting in Manipur was carried out in two phases, 04 march 2017 and 08 March 2017. Election result will be declared on 11 March 2017. The latest exit polls will be shared after voting is completed. As per ECI, no opinion poll can be shared in between the elections. So we will have to wait for another few days, for latest Manipur opinion polls.
Manipur Opinion Poll by India Today-Axis
India Today My axis poll results has been announced on 13 October 2016. It is the first and latest opinion poll on Manipur by reputed survey agency.
| Party | Seats | Vote Share% |
| --- | --- | --- |
| BJP | 31-35 | 40% |
| Congress | 19-24 | 37% |
| NPF | 5-Mar | 13% |
| Others | 4-Feb | 10% |
As per the poll BJP is likely to win Manipur assembly elections 2017 and it would form government without any external support. Congress is going to lose the elections, currently congress is ruling the Manipur.
In the opinion survey, people rejected the Iron lady of Manipur Irom Sharmila. Only 9% voters said that they will go in the favour of Irom Sharmila in next assembly elections. 73 percent voters replied in negative and 18 were not sure.
You may also Like to Know
Manipur Election 2017 Results
Manipur Assembly Constituency Results
Manipur Election Result 2012
Manipur Candidates List 2017
BJP Candidates List
INC Candidates List
India TV-CVoter Manipur Opinion Poll 2017
| Party Name | Seats Prediction |
| --- | --- |
| Congress | 19-23 |
| MPP | 14-18 |
| BJP | 2-5 |
| Others | 18-22 |
The India TV-Cvoter opinion poll predicts that congress will claim maximum seats in the upcoming elections. This is a good news for Congress as currently they are struggling politically in rest of the country. The seat tally of congress is expected to be around 19-23. Other parties will win 18-22 seats in Manipur. Manipur Peopleís Party (MPP) is expected to win 14-18 seats which is a fair share of seats out of total 60 seats. BJP will have to suffice with 2-5 seats. As per the poll, no party is winning the Manipur elections 2017 with majority.
Manipur Assembly Election Results 2012
We are hoping that major survey agencies will conduct the opinion polls soon and we will publish the updated opinion poll 2017.
| Party | Seats |
| --- | --- |
| INC | 42 |
| AITC | 7 |
| Manipur State Congress Party (MSCP) | 5 |
| NPF | 4 |
| NCP | 1 |
| LJP | 1 |
| Total | 60 |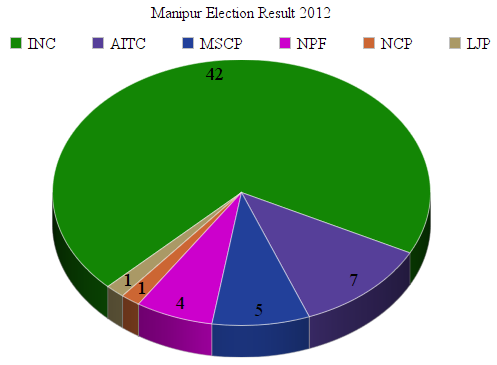 As per Manipur assembly legislative results 2012, INC won the 42 seats out of 60. On the other hand none of the parties unable to cross double digits in previous elections.
The upcoming elections will be a tough competition between various parties. Despite Congressís last win in the state with majority, the current scenario showcases no high hope of majority for Congress. The party has seen its all time low in the country during recent years. BJP is looking in a better condition but it is also not strong enough to get majority in the state. MPP also shows positive growth as far as current predictions are concerned. These prediction are mainly based on various opinion polls. The opinion polls are taken on a small sample of people so they might not give a clear picture of voters. There is a good chance that the real results might be entirely different. The Manipur elections are expected to be held in first quarter of 2017, and the results will only show the fate of various political parties. Until then, we can refer opinion polls, surveys, live updates to follow different aspects of the Manipur elections.
You may also Like to Know
Manipur Election 2017 Dates and Results
Manipur Assembly Constituency Results
Manipur Candidates List 2017
BJP Candidates List
INC Candidates List
Last Updated on 29 July 2018