Trade fair 2017 is scheduled in Pragati Maidan and IITF dates are 14th to 27th November 2017 and first few days of India International Trade Fair are reserved for business visitors. The Trade Promotion Organization has increased the ticket price for Trade fair and tickets will be available in online mode also for like last time. Tickets are available at Metro stations, some Mother Dairy booths and Pragati Maidan ticket counters.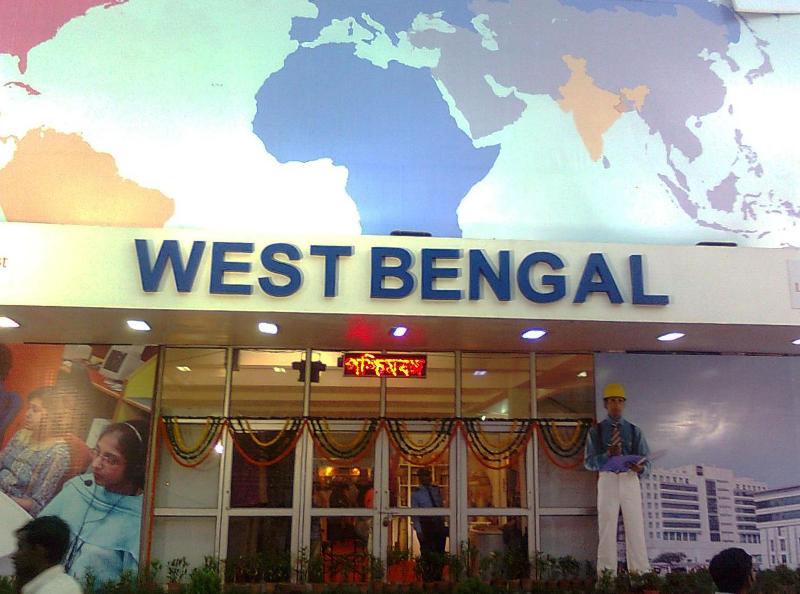 Business days for trade fair will be from 14 to 18 November 2017 and Public days are from 19-27 November 2017. Detailed ticket prices from Trade Fair Delhi 2016 is mentioned in below Table.
India International Trade Fair 2016 Ticket Prices
ITPO has reduced the price of trade fair tickets 2016. New slashed ticket rates are listed below.
| Ticket Information – IITF 2016 | | | |
| --- | --- | --- | --- |
| Business Days (14-18 November) | 2016 | 2015 | Difference |
| One Day Ticket | 500 | 400 | 100 |
| Seasonal Ticket | 1800 | 1500 | 300 |
| Student Ticket (In Uniform with School ID) | 50 | NA | NA |
| Public Days (19-27 November) | | | |
| Public Days (weekdays) | | | |
| Adult | 50 | 60 | -10 |
| Child (Age 5-12 Years) | Free | 40 | NA |
| Public Days (weekend/Holidays) | | | |
| Adult | 100 | 80 | 20 |
| Child (Age 5-12 Years) | Free | 50 | NA |
| Senior Citizen and Handicapped Person | Free Entry | | |
Pragati Maidan Trade Fair 2017 Ticket Price 2017 will be updated after the official announcement.
Visitors need to pay 50 Rs on weekdays for Adult and for children entry free up to 12 years of age in IITF. Weekdays are from Monday to Friday. On weekends (Saturday/Sunday) or Public holidays visitors have to pay 100 Rs for an adult ticket and child entry is free up to 12 years. Ticket is valid for single entry. Students in uniform with ID card need to pay 50 Rs for entry in Pragati Maidan Trade Fair. Students are allowed to visit the fair during business days also.
Business tickets are available by paying 500 Rs and seasonal ticket can be purchased in 1800 Rs. Seasonal tickets are valid from 14 November to 27 November 2017. ITPO is providing free entry for senior citizens and persons with disability after producing valid age/physical handicapped document with photograph on any gate of Pragati Maidan. Attendants coming with senior citizens and physical handicapped person need to buy full ticket.
Less Space in 2017 Trade Fair
The 2017 trade fair will be organized at Pragati Maidan in half of the space as compared to last years. As per ITPO chairman and MD Mr. LC Goyal has said that this time only half of the space is available for this mega event. Around 52000 square meters of space would be available for Vyapar Mela due to the ongoing construction work. A world class Integrated exhibition cum convention center (IECC) is being built inside the Pragati Maidan campus. This building will be completed in two years in a budget of  2600 crore.
Due to construction, less number of exhibitors will participate in this event. Crowd control would be the main task for the ITPO management. Last year around 15 lacs of people attended this 14 year event. In 2017 ITPO would try the reduce the visitors number up to 10 to 12 lac. This time main focus is on the sale of online tickets to reduce the crowd on Pragati Maidan ticket counters.
Trade Fair Delhi 2017 – Pragati Maidan Layout
Below layout plan of Pragati Maidan is showing all halls for IITF 2016. Click on image for larger size.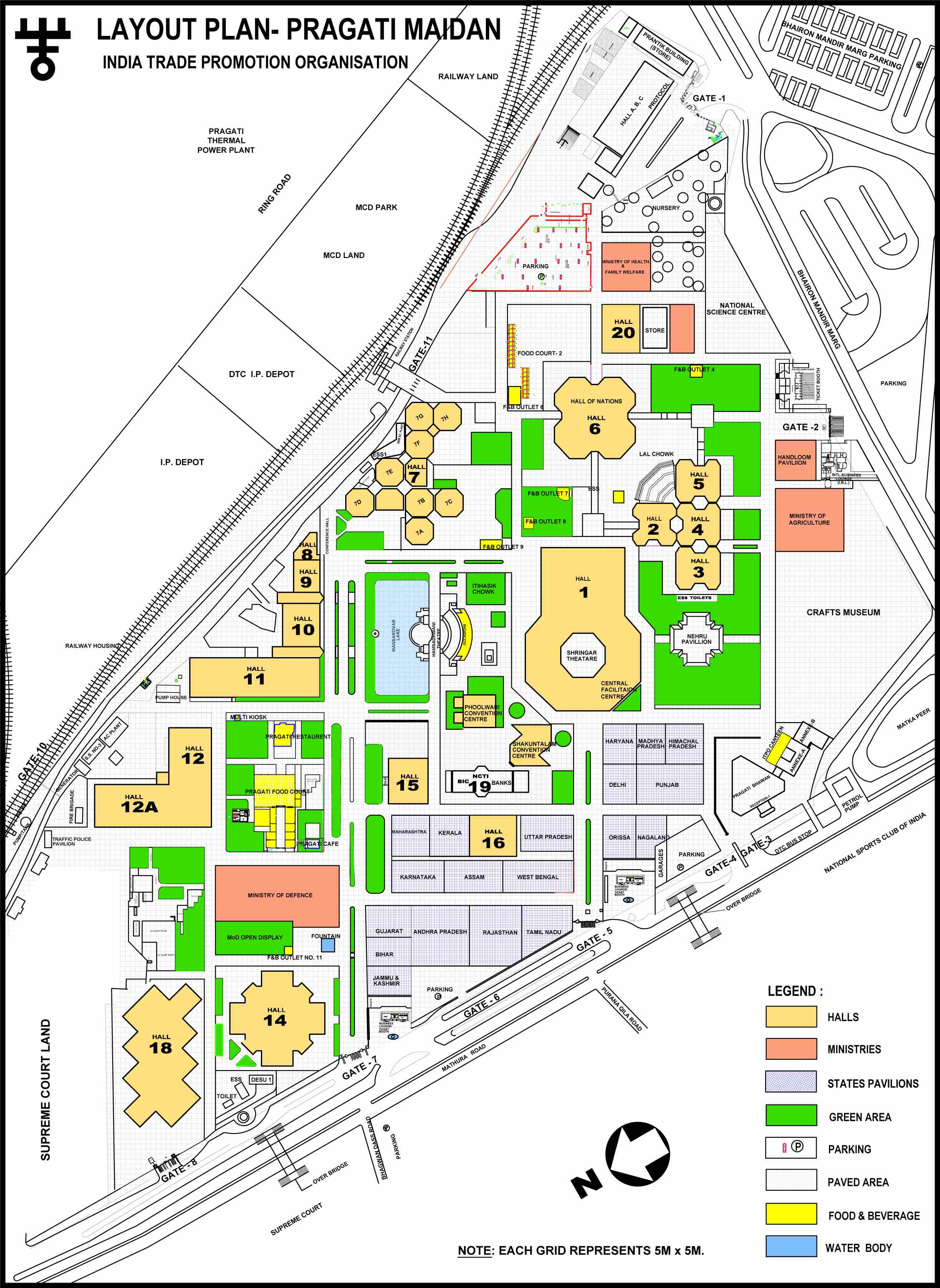 Pragati Maidan layout map is showing the nearby roads, all entry gates, railway lines, state pavilions, food courts, restaurants, canteens, Mansarovar lake, theaters, foot over bridge, traffic police pavilion, etc.




This Time ITPO has decided to increase some facilities for the visitors. School students can visit the trade fair during business days in just 50 Rs instead of 500 Rs. Students will have to come in School dress with School ID, for these schools have to send their application in advance to ITPO. ITPO is also planning to provide free Wi-Fi to the visitors.
Trade Fair Delhi Timings
9:30 AM to 7:30 PM and entry can be availed till 5 PM. Due to heavy crowd on weekends entry can be restricted before the scheduled time.
IITF Delhi Dates 2017
14-27 November 2016. 14-18 November is reserved for business visitors and general visitors can visit the fair from 19-27 November 2016.
Nearest Metro Station
Pragati Maidan Metro Station of Blue Line
Tickets are available in online and offline mode. Tickets are available at below Metro Stations:
Dilshad Garden, Shahdara, Rithala, Inderlok, Samaypur Badli, Jahangir Puri, Kashmere Gate, New Delhi, Rajiv Chowk, Central Secretariat, Saket, Hooda City Centre, Noida City Centre, Botanical Garden, Pragati Maidan, Barakhamba, Karol Bagh, Kirti Nagar, Uttam Nagar East, Dwarka Mor, Dwarka Sector 21, Vaishali, Lakshmi Nagar, Anand Vihar, Mundka, Peeragarhi, ITO, Mandi House, Lajpat Nagar, Govind Puri, Badarpur and Dhaula Kuan.
IITF Online Ticket Booking Link: www.itpoonlineticket.in. Printout of Online ticket is mandatory for entry in the Pragati Maidan complex.




Facilities
Shuttle Bus Service is available from Mandi House to Pragati Maidan on interval of 10 to 20 minutes. This bus service is free of cost and visitors can also buy IITF tickets from the bus also. The bus service is available from 14 to 27 November (IITF Dates).
ITPO has installed 18 ATM inside the complex to smooth facilitation of cash withdrawal and deposit. Wi Fi facility is enabled in Hall no. 7-11, 12, 12A, 14, 15 and 18.
India international Mega Trade Fair Greater 2017 will be held from 04 August 2017 to 15 August 2017. Check IIMTF Greater Noida 2017.
If you missed the Trade Fair 2016, Do not Miss World Book Fair Delhi 2017. Dates are 7 to 15 January 2017.
Check Places to visit in Delhi