The Maharashtra Cricket Association (MCA) Stadium is located in Gahunje, Pune (Maharastra). The cricket stadium is also known as Pune Cricket Stadium. The stadium is owned by Maharashtra Cricket Association. In 2013, the Sahara India Parivar bought the naming rights of stadium for the sum of 200 Cr Rs and the Stadium was named to Subrata Roy Sahara Stadium. But the company didn't pay the full amount so the name of the cricket stadium was changed back to Maharashtra Cricket Association Stadium. The first match which was played on the stadium was between Kings XI Punjab and Pune Warriors in April, 2012 and it was an IPL match. In December, 2012 first international T20 match was hosted on this stadium which was a clash between India and England. The only ODI which was played on this stadium was between India v Australia in Oct 13, 2013. The Pune cricket stadium has seating capacity of 42,000. The stadium is home ground of Maharashtra cricket team, Indian Cricket Team, Veer Marathi and IPL team Rising Pune Supergiants (RPS). 1st ODI match of England tour of India will be played in the Pune cricket stadium on 15 January 2017.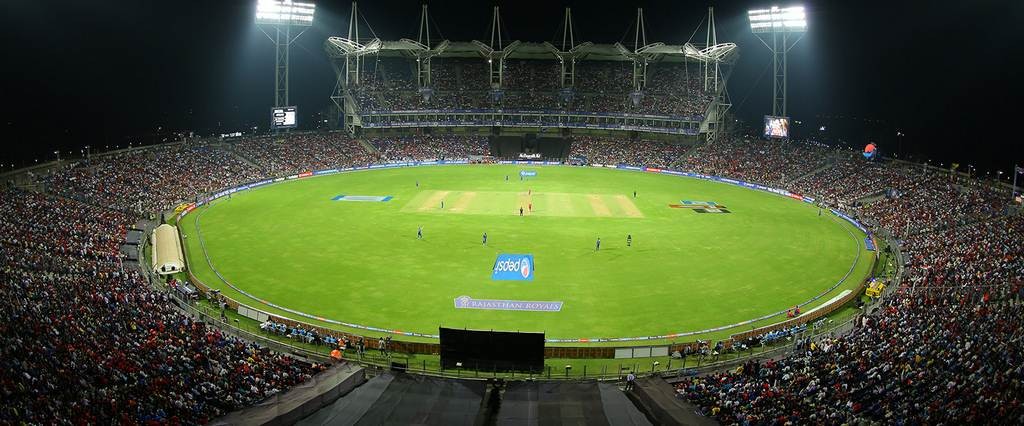 Ticket Booking Procedure
The tickets can be booked online by visiting bookmyshow.com website or bookmyshow mobile app. If you are booking the tickets few days before the match and you delivery address is within the delivery limit, home delivery will be provided. The delivery would be done 2 days prior to the match. If the home delivery option is not available to you, then you will have to collect the entry passes from the box office. The box office timing is from 10:00 AM to 06:00 PM.
As seen above, the entry passes can be collected on match day and non match day. To avoid the last minute rush, it is suggested to pickup the entry passes on a non match day. Tickets for some of the stands can be booked from stadium too.
Also know about Wankhede Stadium Mumbai
How to Book MCA Stadium IPL Ticket
Here are few steps for booking IPL tickets online at any time of day.
Login to bookmyshow.com website.
Select the match, date, price and ticket quantity from stadium layout.
Now select the seat from the seating layout.
After making the payment, tickets would be delivered to your mailing address or you can also collect the tickets from the box office.
Ticket Booking Procedure for India England 1st ODI
First One Day International match between India and England of 3 match ODI series will be played in MCA stadium Pune on 15 January 2017. Ticket booking for Paytm Series 1st ODI – India vs England is open thorough Bookmyshow in online mode. Online tickets can be booked through the BMS site or App only. Online ticket rates start from at 800 Rs and goes up to 3500 Rs. Tickets are available in Rs. 800, 1100, 1750, 2000 and 3500. Tickets can be booked via making online payment. This time bookmyshow is providing Home Delivery service on selected pin codes on home or office address. Visitors can pick the tickets from the Box office also. Ticket Booking Link is https://in.bookmyshow.com/sports/cricket/england-tour-of-india/1st-odi-match/.




Bay 15 to 20 of west stand is available for ground sales only. You can buy the tickets of west stand from the stadium directly.
I have shared the box office pickup location below:
Non-Match day Pick-up Address
Box Office Pickup Location 1:
Box-Office @ PYC Hindu Gymkhana, CTS No. 766, F.P. No.244, Bhandarkar Road, Deccan Gymkhana, Pune, Maharashtra 411004
Box Office Pickup Location 2:
Box-Office @ Gate No 1, MCA`S International cricket Stadium, Gahunje, Pune
Counter timing for both the location is 10.00AM to 6.00PM.
Match day Pick-up Address
Pickup Location 1:
Box-Office @ PYC Hindu Gymkhana, CTS No. 766, F.P. No.244, Bhandarkar Road, Deccan Gymkhana, Pune, Maharashtra 411004
Counter timing 10.00AM to 6.00PM.
Pickup Location 2:
This Box Office counters remains closed on all Match Days.
Pune Cricket Stadium Location Map
This Google map showing the location of Pune cricket stadium.
Pune Cricket Stadium Seating Arrangement
The Pune cricket stadium seating arrangement is shown below. It shows various roads and stands which makes it easier to choose which stand to book and which road to take while visiting the stadium. Parking zones, pavilions, stands, service lane also depicted on the map clearly.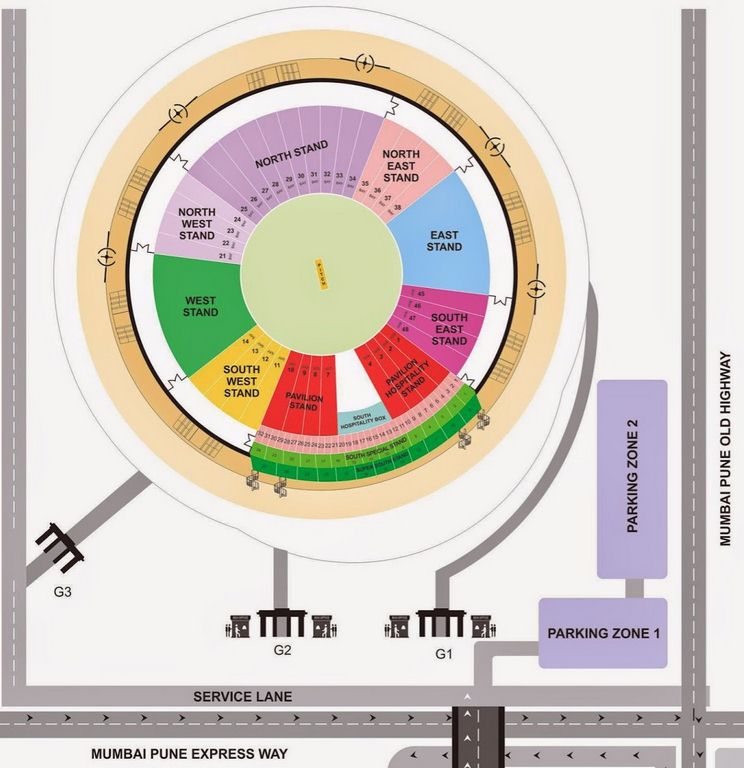 It is located in Mumbai Pune Expressway just in the outskirts of the city. You can clearly see the old and new highway on the layout.




General Guidelines
To have a good overall experience and to be ready for the match, there are few things to keep in mind. On receiving your entry passes, check the gate number which is printed on them. You have to head towards the gate number to enter the Maharashtra Cricket Association stadium and reach to your stands. There are few only a few number of items which are permitted inside the stadium. It is advised not to bring any item other than the wallet and mobile phones, as the list of restricted items is rather long. I may name few of the restricted items: water bottles, data cable, power bank, charger, headphones, coins, metal objects, binoculars, plastic bags, eatables or drinkable, etc. Although, some of the baby food items and baby diapers are allowed. If something gets detained at the entry gates, the probability that you would get it back is really low. The entry gates of the stadium generally open 3 hours prior to the start of the match. So, it is good to enter the stadium before time.
Also, read about Feroz Shah Kotla Stadium
MCA Stadium Facilities
Pune Cricket stadium has all the basic facilities. There is a cafeteria located inside the stadium which serves good food. The number of washrooms available are also enough. Stadium is in very good condition as it is newly constructed. The stadium seating is constructed in such a was that every spectator experiences a clear view of the stadium. The spectators are seated in four various stands. It has some of the premium facilities for 5,000 members which include squash and badminton courts. It has a spa, swimming pool, restaurants, and bars. It has 80 corporate hospitality boxes too.
IPL9 Match Schedule at Pune Cricket Stadium
| Date and Day | Team | Team | Time |
| --- | --- | --- | --- |
| 22 April 2016 | Rising Pune Supergiants (RSP) | Royal Challengers Bangalore (RCB) | 8:00 P M IST |
| 24 April 2016 | Rising Pune Supergiants (RSP) | Kolkata Knight Riders (KKR) | 8:00 P M IST |
| 29 April 2016 | Rising Pune Supergiants (RSP) | Gujarat Lions (GL) | 8:00 P M IST |
| 01 May 2016 | Rising Pune Supergiants (RSP) | Mumbai Indians (MI) | 8:00 P M IST |
| 10 May 2016 | Rising Pune Supergiants (RSP) | Sunrisers Hyderabad (SP) | 8:00 P M IST |
| 17 May 2016 | Rising Pune Supergiants (RSP) | Delhi Daredevils (DD) | 8:00 P M IST |
| 21 May 2016 | Rising Pune Supergiants (RSP) | Kings XI Punjab (KIXP) | 4:00 PM IST |
| 25 May 2016 | TBD | TBD | 8:00 P M IST |
| 27 May 2016 | TBD | TBD | 8:00 P M IST |
Rising Pune Supergiants (RSP) matches post 1 May 2016 shifted to ACA VDCA Cricket Stadium.




Pune Cricket Stadium Review
The stadium is newly constructed and it has a huge seating area. While designing the seating area, the priority was to provide a clear view of the ground to the various stands. The architects(Hopkins Architects) succeed in doing so. The rain is a big problem in Pune and it has caused many matches to be abandoned, so to overcome this problem sand based outfields are developed. These outfield doesn't allow water to stay on the filed and as a result stadium gets ready to play again in few minutes after the downpour. The stadium is well equipped with all the latest and basic facilities. The ambiance created here is also magnificent on match days when the ground is full with fans. The experience is rather special. It is advised to visit the cricket stadium by public transport as it faces a lot of rush on match days and bringing your own vehicle can become a headache later on.