Holkar Stadium is a cricket ground situated in Indore, Madhya Pradesh. The stadium was established in 1990 and built in 2003. It is  equipped with floodlights for day night cricket matches. First One international match was played here between India and England on 15 April 2006. Virender Sehwag of Indian cricket team scored 219 in just 149 balls in this cricket stadium playing against West Indies. The Madhya Pradesh Cricket Association is the owner of this cricket ground. Madhya Pradesh has only two international cricket stadium, One in Gwalior and second is in Indore.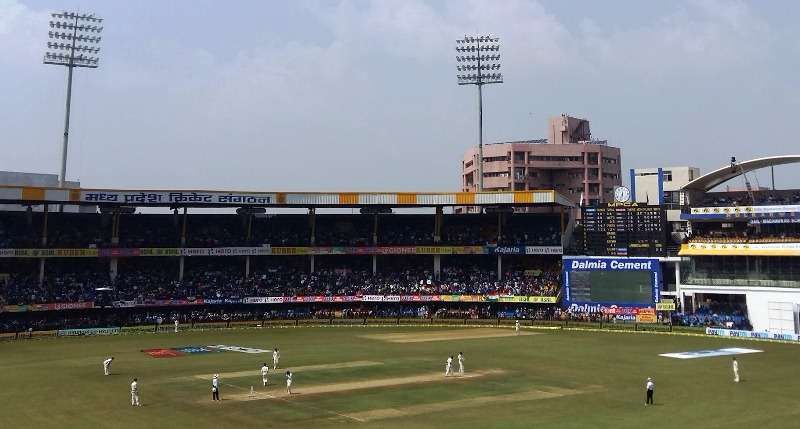 Holkar Stadium Profile
This stadium recently selected as the test match venue along with 5 other grounds. Holkar cricket stadium has hosted its first test match on 8 October 2016 as a part of New Zealand tour of India. The third and final match of test series had played here.  The seating capacity of Holkar stadium is 30,000 and it is a bit smaller than Gwalior's Roop Singh stadium in terms of seating capacity. The Indian cricket team has played 4 ODI here and won all of them. It is considered as a lucky stadium for India team. Stadium is relatively new and great drainage facility.
Upcoming International Match Schedule at Holkar Stadium
| Match Name | Series Name | Date |
| --- | --- | --- |
| India vs Australia | Match of India Australia 5 Match ODI Series | 24 September 2017, Sunday |
| India vs Sri Lanka T20 | Match of India Sri Lanka 3 Match T20 Series | Not Announced |
One match of Australia tour of India 2017 will be played at Holkar stadium Indore. India Australia ODI match ticket prices are declared few days before the match. Ticket prices are affordable despite the addition of 28% GST. Rest of the matches of this ODI series will be played at M Chinnaswamy Stadium Bangalore, Nagpur Cricket Stadium, MA Chidambaram Stadium and Eden Garden Kolkata.
As per the MPCA, ticket prices start from 450 Rs and highest ticket price is 5120. Student concession ticket cost is 450 Rs, East lower gallery ticket rate is 500 and west gallery lower ticket cost is 650 Rs. Lower south pavilion ticket cost would be 4480 and upper pavilion ticket cost would be 5120. Ladies block is also made by MPCA in which they can bring children up to 12 years. Entry is free for kids under 3 years old. Tickets will be available from ticketgenie website. We will update the ticket booking link as soon as ticket booking starts. Click this link for ticket booking, tickets are available in slots and more tickets will be available online on 16 September also.


On 15th September, Ticketgenie site was not opening most of the time due to some technical glitch. Thousands of the cricket fans of Indore and nearby area are eagerly waiting for the online ticket, however, they were not able to book tickets due to this technical issue. There is no further date of online ticket booking till now on official ticketing site. Ticket booking is suspended till further notice. Fans are advised to keep checking official website for next ticket booking date.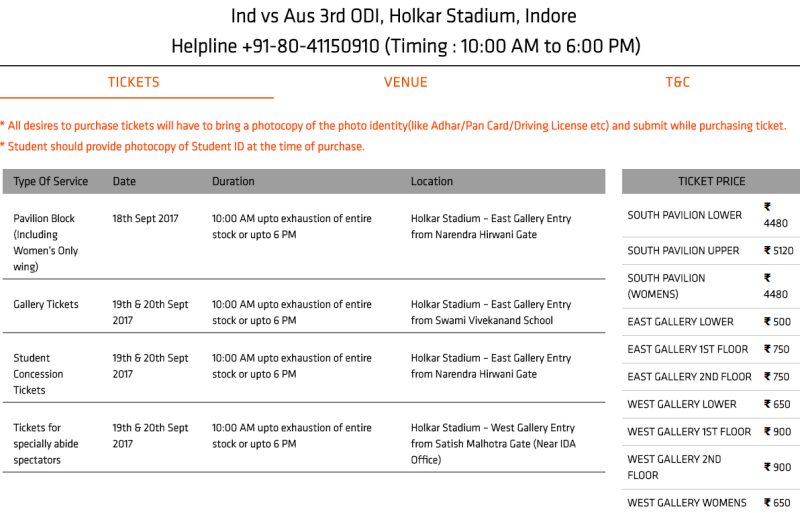 Ticket chart is displayed above, kindly follow all the instruction written in the above image. Kindly carry student's ID card photocopy and submit at ticket counter to purchase student concession tickets, I suggest students should also bring original ID card also for verification. Submit the photocopy of Voter ID card, Pan Card, Aadhar card, driving license etc to purchase normal tickets from the stadium counter.
As per the MPCA the offline tickets can be booked directly from the Holkar stadium counter directly on 19th and 20th September 2017. India Australia Indore stadium tickets can be booked from ticket counter and each person can purchase only two tickets. MPCA is trying very hard to make ticketing procedure fully transparent and stop black marketing of match tickets.
2nd Twenty Twenty match of India Sri Lanka T20 series will also played at the Holkar stadium of the Indore. First match of T20 Series will be played at the Thiruvananthapuram cricket stadium and last and third match will be played at Wankhede stadium of Mumbai. Apart from T20, Sri Lanka will also play 3 Match Test series and 3 Match ODI series with India. Check Sri Lanka tour of India full schedule.
India Australia ODI 2017 and India Sri Lanka T20 2017 Ticket Booking Procedure
Tickets for the upcoming matches at Holkar Stadium, Indore will make available for the sale few weeks before the match. Ticket prices for India, Sri Lanka T20 and India, Australia ODI match will also be announced few weeks before the match. If we check past trends, ticket price might start from 500 to 750 Rs for One day match and T20 match. This time ticket booking of T20 and ODI match expected to start in online and offline mode like previous matches played at the stadium. We will update the booking link after the official announcement.
As per latest update from some news sites, India Australia ODI match ticket booking is expected to start from 15 September 2017 from online and stadium counter. 60% tickets might be sold from online channels and rest 40% ticket will be sold via Holkar Stadium ticket counter. As per the sources Madhya Pradesh Cricket Association has started all the arrangements for the smooth facilitation of upcoming India and Australia match. Holkar Stadium India Australia match ticket might start from 500 rs after GST effect.
Ticket Booking Procedure
Indore Cricket Stadium has hosted few ODI and IPL matches till now and it hosted its first ever cricket Test match in October 2016 when India played against New Zealand in final test match of the series. IPL 2017 schedule has announced and the tickets of this stadium can be booked in online mode in advance. Generally ticket bookings are opens few days before the match. The ticket for the match can be booked through online or by counter. Bookmyshow generally providing the option of online IPL ticket booking and the counter tickets can be bought from the stadium directly. The price of the tickets depends on the stand and the gallery. Online tickets have to be redeemed from the original tickets. You have to carry the confirmation mail of the ticket booking and change it to with the gate pass which is used for the entry in the stadium.



Currently IPL 10 season is about to end, and some more matches are yet to be played between teams. One more match is scheduled to be played in this stadium. The match between KKR and KXIP will be played here on 9 May 2017.
IPL 2017 Match Schedule Holkar Stadium
| Team 1 | Team 2 | Date | Time (IST) | Day |
| --- | --- | --- | --- | --- |
| KXI | MI | 20 April 2017 | 20:00 | Thursday |
| KXI | RSP | 8 April 2017 | 16:00 | Saturday |
| KXI | RCB | 10 April 2017 | 20:00 | Monday |
| KXI | KKR | 9 May 2017 | 20:00 | Tuesday |
As per news sites tickets booking of IPL tickets might opens after 26 March in offline and online mode and holkar stadium ticket rates would be nominal so that maximum number of viewers can enjoy the IPL matches after a long period of 5 years. As per the some sites ticket rates would be 600, 800, 3000 and 6000 for a IPL match.
Check Complete IPL 2017 Schedule
IPL 2017 Stadiums – Hosting IPL 10 Matches
Download IPL 2017 Schedule PDF
Holkar Stadium Seating Layout
The seating capacity of the Holker cricket stadium is to accommodate 30,000 fans. The stadium consists multiple galleries and pavilions.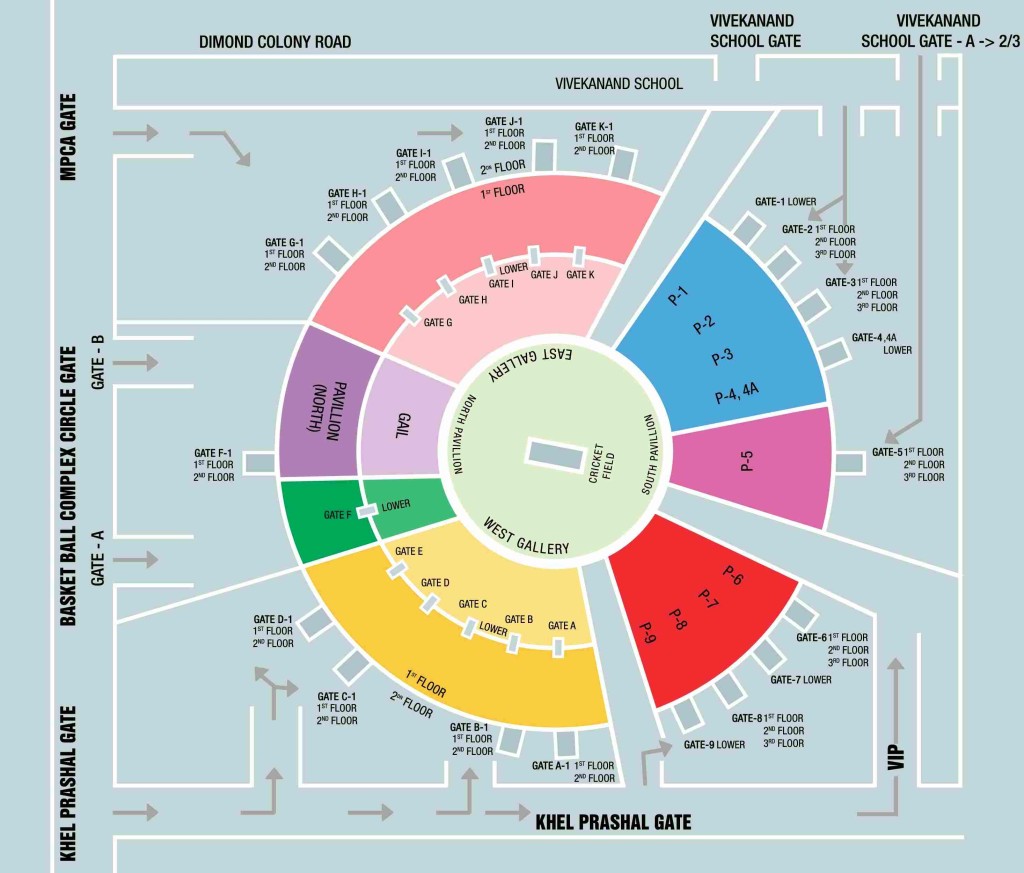 The layout of the stadium clearly depicts the stands and entry gates of the stadium. Nearby roads and landmarks are clearly shown on the map.
Holkar Cricket Stadium Map
Stadium Facilities

The Stadium has plenty of washrooms and good cafeteria to serve the guests. Holkar Stadium is located in busy area of Indore city and it did not have good parking facility. It is advisable to use public transport to reach the stadium and enjoy the match. Also, try to reach the stadium at least 1 to 2 hours before the starting of the match if you do not want to miss any moment of the match.
| Information | |
| --- | --- |
| Address | Race Course Road, Indore, Madhya Pradesh 452001 |
| Seating Capacity | 30,000 |
| Restricted Items | Coins, power bank, headphones, data cables, bottles, water bottles and any type of eatable or drinkable, digital cameras, binoculars, plastic carry bags etc |
| Items allowed | Wallet, mobile phone, Baby food, diapers |
| Official Website | www.mpcaonline.com |
| Contact No. | 0731-2543602 |