Delhi MCD elections are due in the beginning of 2017, last elections for MCD were held in April, 2012. There is no Delhi MCD opinion poll have been conducted now by any reputed agency till now, which can predict the winner of upcoming civic polls. After the entry of the Aam Aadmi Party in Delhi politics, it is hard to predict a clear winner.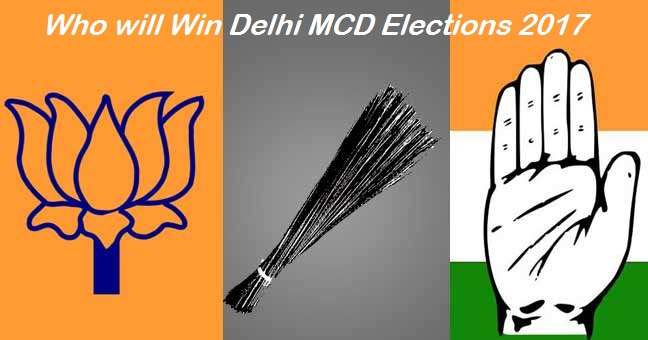 Who will Win Delhi MCD Election 2017?
AAP made a bumper entry in Delhi politics by winning 28 seats out of 70 in 2013 assembly elections, however, this minority government remains in power for 49 days even after the unconditional support of Indian National Congress. AAP creates history in the 2015 assembly polls by winning 67 seats out of 70 seats. In 2016 MCD bye elections AAP won 5 seats out of 13 seats.
In 2016 bye polls, Congress won 4 seats out of 13 seats and remains second in the list. It might be a relief for them after the their historic defeats in 2015 Delhi assembly elections. In the 2015 elections, INC unable to win a single seat out of 70 seats. We are hoping that some reputed news agency will soon conduct a MCD opinion survey of MCD elections 2017.
BJP is currently ruling the Municipal Corporation of Delhi, they are in power at MCD from long time and win the 2012 MCD elections by a good margin. They won 142 seats out of 272 seats. 137 seats are required by any party to win the MCD elections. The BJP is in good state after winning Chandigarh MC elections, even after they move on Demonisation. In coming opinion polls BJP will be a tough competitor for the INC and AAP in Nagar Nigan Chunav.




Take Part in Online Poll and Cast your Opinion
MCD Election 2012 Results
| Party | Seats won |
| --- | --- |
| Bharatiya Janata Party | 142 |
| Indian National Congress | 77 |
| Bahujan Samaj Party | 15 |
| Others | 38 |
| Total Seats | 272 |
Check Complete results of 2012 MCD Elections
You May also know:
We will publish the MCD opinion poll 2017 as soon as any reputed survey agency comes with the predictions. As per our predictions it is very hard to predict a clear winner ahead of 2017 MCD elections. What you think? Who will Win Delhi MCD Election 2017? Share your thoughts in the comment box.